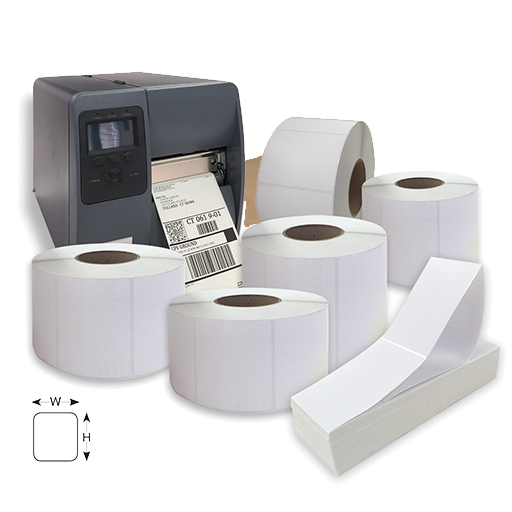 4" Outer Dia. 1" ID Core
Description: Images are produced when the print-head applies heat to the ribbon which is then melted onto the label. The ribbons can be different colors, and not limited to only black print.
RIBBON REQUIRED
Best used in: Printing machines specifically for thermal transfer labels.
Same Day Delivery within a 10-mile radius. Big Saving and Earn Rolling Reward Points for Orders Over $250.
* Please check our Terms of Sale page for additional information.
Model #
Outer Diameter
Label Size
Label
/Roll
Roll
/Case
Price Per Roll
Qty
(Case)
W x H
1 Case
3 Cases
5+ Cases
TTR41-150100A
4"
1 1/2 x 1"
1310
4
$ 3.50
$ 2.90
$ 2.80
TTR41-200100A
4"
2 x 1"
1400
12
4.80
4.30
4.10
TTR41-225075H
4"
2 1/4 x 3/4"
1780
12
7.00
6.00
5.00
TTR41-250125H
4"
2 1/2 x 1 1/4"
1135
12
6.00
5.50
4.90
TTR41-300300A
4"
3 x 3"
500
4
6.30
5.50
5.30
TTR41-350100A
4"
3 1/2 x 1"
1310
4
8.00
7.20
6.30
TTR41-400100A
4"
4 x 1"
1310
4
6.50
5.70
5.40
TTR41-400150H
4"
4 x 1 1/2"
960
12
6.60
5.90
5.60
TTR41-400200A
4"
4 x 2"
735
12
7.60
6.80
6.50
TTR41-400400H
4"
4 x 4"
377
12
6.50
5.90
5.60
TTR41-400600A
4"
4 x 6"
250
12
4.90
4.50
4.10