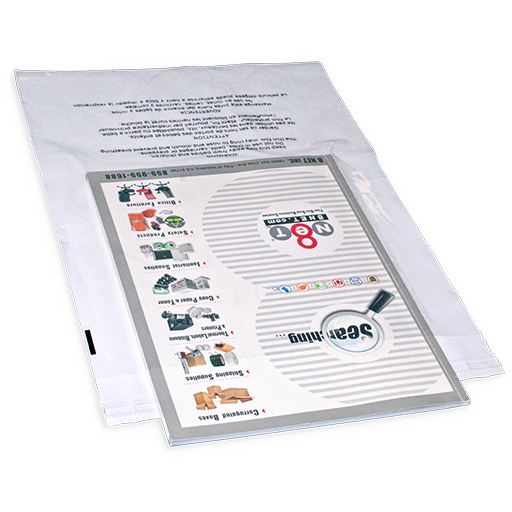 Description: 1.5 Mil thick polypropylene plastic poly bag printed with suffocation Warning written in English, Spanish and French, allows for reopening and reusing. Easy peel to expose the adhesive, and the poly bag will be self-sealable within seconds.
Same Day Delivery within a 10-mile radius. Big Saving and Earn Rolling Reward Points for Orders Over $250.
Stacking Discounts: The Higher your order subtotal (before tax and freight), the greater the Savings!** Orders totaling more than $250, $500 and $1,000 will save increasingly more on Each Item. Our Stacking Discounts give you the best option for your needs.
**Order subtotal must be a MINIMUM of $250, $500, or $1,000 AFTER discount is applied to each item.
Resealable/Warning - 1.5 MIL
Model #
Outside
Qty
/Case
Price Per Case


(Combined Order ≥)

Redeem for Free
Qty
(Case)
1
5
10
20
W x L

≥ $100

≥ $250

≥ $500

≥ $1,000

PBS20-0609-W
6 x 9"
1000
$ 23
$ 17
$ 15
$ 13
750
PBS20-0810-W
8 x 10"
1000
33
24
22
19
750
PBS20-0912-W
9 x 12"
1000
43
32
28
25
1000
PBS20-1013-W
10 x 13"
1000
49
37
33
29
1000
PBS20-1114-W
11 x 14"
500
29
23
20
18
1000
PBS20-1215-W
12 x 15"
500
36
27
24
20
1000
PBS20-1218-W
12 x 18"
500
39
31
27
24
1000
PBS20-1420-W
14 x 20"
500
44
38
33
29
1000
Resealable - 1.5 MIL
Model #
Outside
Qty
/Case
Price Per Case


(Combined Order ≥)

Redeem for Free
Qty
(Case)
1
5
10
20
W x L

≥ $100

≥ $250

≥ $500

≥ $1,000

PBFRCS15-1218S
12 x 18"
1000
$ 88
$ 85
$ 81
$ 79
--