Foam Rolls
Free Same Day Delivery* available for qualified orders! Get Big Saving and Earn Rolling Reward Points for Orders Over $250.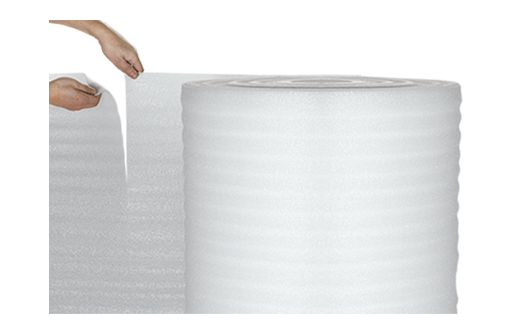 Protect fragile and delicate items for shipment.
Absorbing shock, vibration, and scratches during transit.
Non-abrasive foam material, lightweight, waterproof.
Every 12" has a cross perforation.

Anti-static foam roll also available. Call for quote.
Model #
Thickness
Roll Size
Rolls/
Bndl
Price Per Roll
Redeem
for Free
(Bundle)
Order Qty.
(Bundle)
1 Bndl
3 Bndls
5 Bndls
10 Bndls
W x L

Or Combined Order ≥

$100

$250

$500

$1,000

FR2-12900
1/16"
12" x 900'
4
$ 38
$ 36
$ 33
$ 30
3500
FR2-24900
1/16"
24" x 900'
2
76
72
66
60
3500
FR2-48900
1/16"
48" x 900'
1
120
120
120
120
3500
FR3-12450
1/8"
12" x 450'
4
38
30
30
30
3500
FR3-24450
1/8"
24" x 450'
2
76
72
66
60
3500
FR3-48450
1/8"
48" x 450'
1
152
144
132
120
3500
FR4-24300
3/16"
24" x 300'
2
76
72
66
60
3500
FR4-48300
3/16"
48" x 300'
1
152
144
132
120
3500
FR5-12225
1/4"
12" x 225'
4
38
30
30
30
3500
FR5-24225
1/4"
24" x 225'
2
76
72
66
60
3500
FR5-48225
1/4"
48" x 225'
1
120
120
120
120
3500
FR7-12125
1/2"
12" x 125'
4
40
34
34
34
4500
FR7-24125
1/2"
24" x 125'
2
80
68
68
68
4500
FR7-48125
1/2"
48" x 125'
1
160
136
136
136
4500