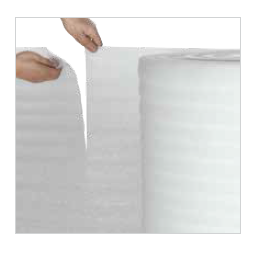 Foam Rolls
Description: Clean, lightweight, water proof, non-abrasive, perforated every 12" for easy tear-off.
Best used in: Protecting products from stratches or dings. Use foam rolls according to your needs. Great for protecting fragile items. 
Same Day Delivery within a 10-mile radius. Big Saving and Earn Rolling Reward Points for Orders Over $250.
* Please check our Terms of Sale page for additional information.
Model #
Thickness
Roll Size
Roll/
Bndl
Price Per Roll
Qty
(Bundle)
W x L
1 Bndl
3 Bndl
5+ Bndl
FR1-241350
1/32"
24" x 1,350'
2
$ 56
$ 50
$ 44
FR2-12900
1/16"
12" x 900'
4
28
25
22
FR2-24900
1/16"
24" x 900'
2
56
50
44
FR2-48900
1/16"
48" x 900'
1
112
100
88
FR3-12450
1/8"
12" x 450'
4
28
25
22
FR3-24450
1/8"
24" x 450'
2
56
50
44
FR3-48450
1/8"
48" x 450'
1
112
100
88
FR4-12300
3/16"
12" x 300'
4
28
25
22
FR4-24300
3/16"
24" x 300'
2
56
50
44
FR4-48300
3/16"
48" x 300'
1
112
100
88
FR5-12225
1/4"
12" x 225'
4
28
25
22
FR5-24225
1/4"
24" x 225'
2
56
50
44
FR5-48225
1/4"
48" x 225'
1
112
100
88
FR6-12125
3/8"
12" x 125'
4
32
28
25
FR6-24125
3/8"
24" x 125'
2
64
56
50
FR6-48125
3/8"
48" x 125'
1
128
112
99
FR7-24125
1/2"
24" x 125'
2
70
62
56
FR7-48125
1/2"
48" x 125'
1
140
124
112