Foam Rolls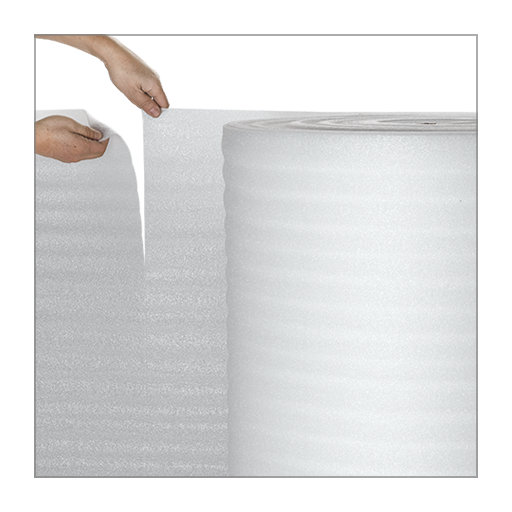 Description: Our thick, low-density polyethylene foam sheets is a non-abrasive foam material acts as added protection and cushioning by cradling your products and absorbing any shock, vibration, scratches, and dings. Clean, light-weighted, every 12 inches has a cross perforation.
Best used in: It is the perfect packaging and shipping supplies to provide outstanding protections for your fragile and delicate items, such as glasses, dishes, and china. You can also use it to wrap furniture edges to prevent scratches during transit.
* Please check our Terms of Sale page for additional information.
Stacking Discounts: The Higher your order subtotal (before tax and freight) is, the greater the Savings! Orders totaling more than $250, $500 and $1,000 will save increasingly more on Each Item. Our Stacking Discounts give you the best option for your packaging needs.
Model #
Thickness
Roll Size
Roll/
Bndl
Price Per Roll


(Combined Order ≥)

Qty
(Bundle)
1 Bndl
3 Bndls
5 Bndls
10 Bndls
W x L

≥ $100

≥ $250

≥ $500

≥ $1,000

FR1-241350
1/32"
24" x 1,350'
2
$ 58.00
$ 52.00
$ 47.00
$ 45.00
FR2-12900
1/16"
12" x 900'
4
28.00
26.00
23.00
22.00
FR2-24900
1/16"
24" x 900'
2
56.00
52.00
46.00
44.00
FR2-48900
1/16"
48" x 900'
1
112.00
104.00
92.00
88.00
FR3-12450
1/8"
12" x 450'
4
28.00
26.00
23.00
22.00
FR3-24450
1/8"
24" x 450'
2
56.00
52.00
46.00
44.00
FR3-48450
1/8"
48" x 450'
1
112.00
104.00
92.00
88.00
FR4-12300
3/16"
12" x 300'
4
28.00
26.00
23.00
22.00
FR4-24300
3/16"
24" x 300'
2
56.00
52.00
46.00
44.00
FR4-48300
3/16"
48" x 300'
1
112.00
104.00
92.00
88.00
FR5-12225
1/4"
12" x 225'
4
28.00
26.00
23.00
22.00
FR5-24225
1/4"
24" x 225'
2
56.00
52.00
46.00
44.00
FR5-48225
1/4"
48" x 225'
1
112.00
104.00
92.00
88.00
FR6-12125
3/8"
12" x 125'
4
31.00
27.00
24.00
23.50
FR6-24125
3/8"
24" x 125'
2
62.00
54.00
48.00
47.00
FR7-12125
1/2"
12" x 125'
4
36.00
32.00
29.00
28.00
FR7-24125
1/2"
24" x 125'
2
72.00
64.00
58.00
56.00
FR7-48125
1/2"
48" x 125'
1
144.00
128.00
116.00
112.00