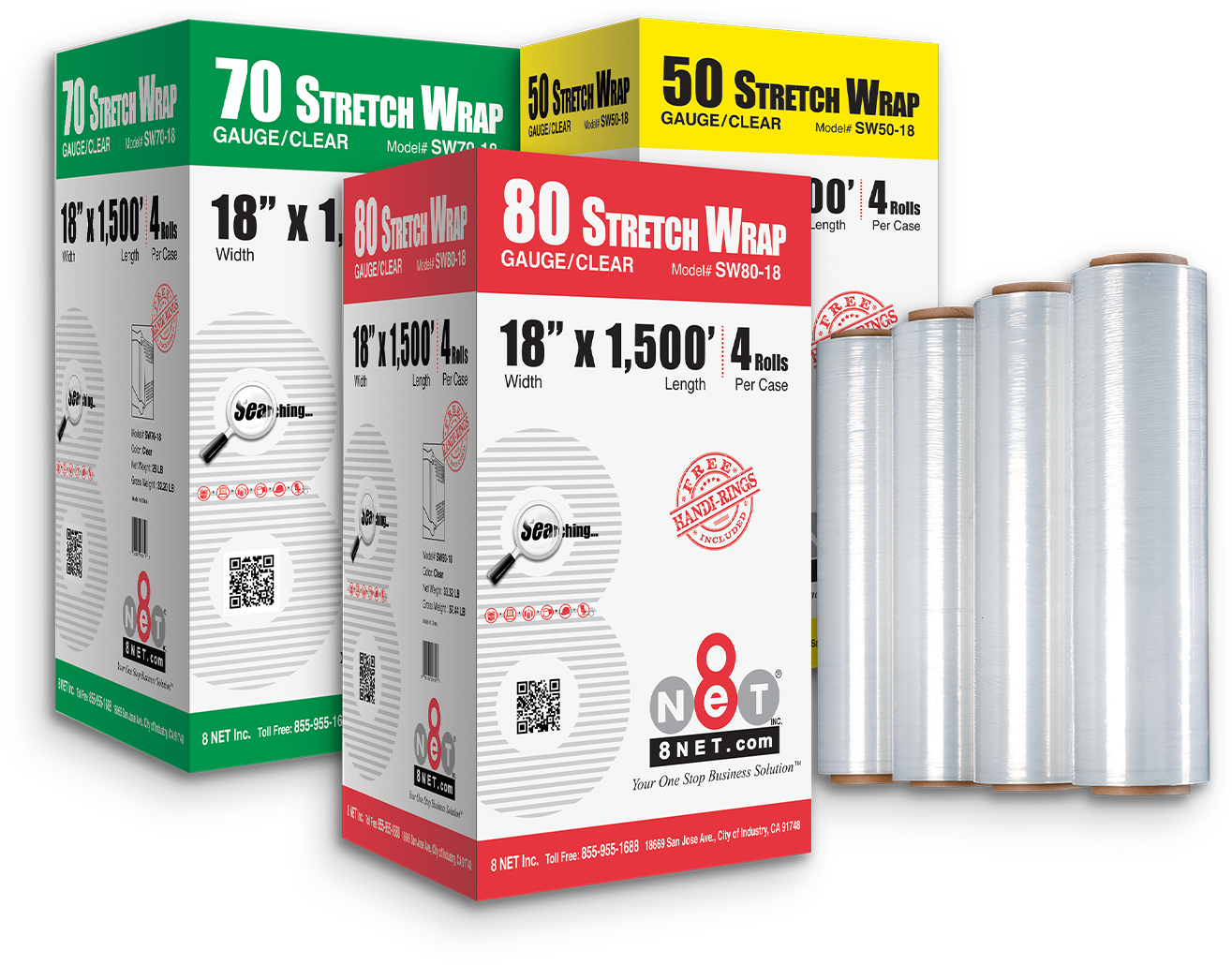 Description: 8 NET Best-selling multipurpose stretch wrap film that can be used for consumer and commercial purpose. Superior stretch sticks to itself for a perfect seal. The more you stretch, the more adhesive is activated.
Best used in: Perfect for moving, storage, and protecting any of your household items. Use it to strap irregular shaped items and it will perform flawlessly. For best results use our stretch wrap dispensers.
Same Day Delivery within a 10-mile radius. Big Saving and Earn Rolling Reward Points for Orders Over $250.
Stacking Discounts: The Higher your order subtotal (before tax and freight), the greater the Savings!** Orders totaling more than $250, $500 and $1,000 will save increasingly more on Each Item. Our Stacking Discounts give you the best option for your needs.
**Order subtotal must be a MINIMUM of $250, $500, or $1,000 AFTER discount is applied to each item.
Sold by Cases
Model #
Description
Gauge
Size
Color
Roll/
Case
Case/
Skid
Price Per Case


(Combined Order ≥)

Redeem for Free
Order
Qty
(Case)

≥ $100

≥ $250

≥ $500

≥ $1,000

1
8
16
32
SW50-1810
Economy
50
18" x 1,000'
Clear
4
80
$ 19.20
$ 19.20
$ 18.00
$ 14.80
750
SW50-18
Economy
50
18" x 1,500'
Clear
4
80
34.80
29.60
27.60
22.80
1000
SW70-1810
Industrial
70
18" x 1,000'
Clear
4
64
30.80
25.20
23.20
20.40
1000
SW70-18
Industrial
70
18" x 1,500'
Clear
4
64
45.80
37.20
34.80
29.90
1250
SW80-1810
Heavy Duty
80
18" x 1,000'
Clear
4
64
33.20
28.40
26.00
22.80
700
SW80-18
Heavy Duty
80
18" x 1,500'
Clear
4
64
49.60
42.00
37.80
32.90
1250
SW80-1810K
Heavy Duty
80
18" x 1,000'
Black
4
64
34.00
34.00
34.00
29.20
800
SW80-18K
Heavy Duty
80
18" x 1,500'
Black
4
80
68.00
59.20
50.00
47.20
1000
Sold in Bulk Qty
Model #
Description
Gauge
Size
Color
Roll/
Skid
Price Per Roll
Order
Qty (Skid)
SW50-1810B
Economy
50
18" x 1,000'
Clear
320
$ 3.70
SW50-18B
Economy
50
18" x 1,500'
Clear
320
5.70
SW70-1810B
Industrial
70
18" x 1,000'
Clear
256
4.96
SW70-18B
Industrial
70
18" x 1,500'
Clear
256
7.48
SW80-1810B
Heavy Duty
80
18" x 1,000'
Clear
256
5.70
SW80-18B
Heavy Duty
80
18" x 1,500'
Clear
256
8.22
SW80-1810KB
Heavy Duty
80
18" x 1,000'
Black
256
7.30
SW80-18KB
Heavy Duty
80
18" x 1,500'
Black
192
9.99