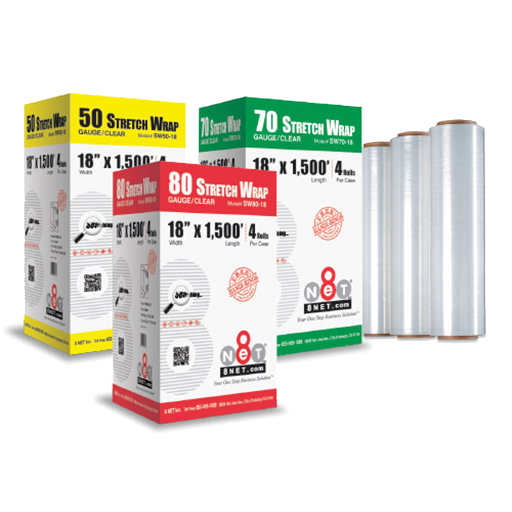 Hand Length
Description: Our premium hand length stretch wrap is designed to secure irregularly shaped and difficult-to-wrap loads. Puncture & tear-resistant, high tensile strength, and self-adhering.
Best used in: Great for bundling packages and or products. Typical use is to wrap pallets and palletized goods. Great for use with our heavy duty boxes
Same Day Delivery within a 10-mile radius. Big Saving and Free Gifts for Orders Over $150.
* Please check our Terms of Sale page for additional information.
Model #
Size
Gauge
Color
Roll/
Case
Cases/
Skid
Price Per Case
Promo Price
Any Qty
Qty
(Case)
1 Case
8 Cases
16 Cases
SW32-15
14.5" X 1450'
32
Clear
4
60
$ 32.00
$ 28.00
$ 23.00
$ 23.00
SW32-17
17.2" X 1450'
32
Clear
4
48
36.00
32.00
27.00
27.00
SW50-1810
18" x 1,000'
50
Clear
4
100
28.00
24.00
19.96
19.96
SW50-18
18" x 1,500'
50
Clear
4
80
38.00
34.00
27.60
27.60
SW70-1810
18" x 1,000'
70
Clear
4
72
35.20
31.20
27.20
27.20
SW70-18
18" x 1,500'
70
Clear
4
48
51.60
43.60
39.20
39.20
SW80-1810
18" x 1,000'
80
Clear
4
72
39.20
35.20
30.00
30.00
SW80-18
18" x 1,500'
80
Clear
4
48
54.00
46.00
39.96
39.96
SW80-1810K
18" x 1,000'
80
Black
4
70
50.00
42.00
37.00
37.00
SW80-18K
18" x 1,500'
80
Black
4
80
68.00
60.00
51.00
51.00