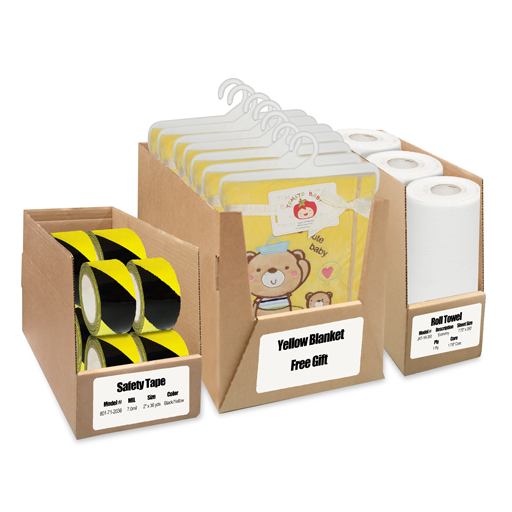 Corrugated Bins
Description: Corrugated Bins offer great protection to stored items. Safely store your accessible products in these tough corrugated bins. Sturdy and easy to fold design. 
Best used in: Great for safely storing products that will need to be accessible. Great for use in racks, for best results use our industrial laser labels.
Same Day Delivery within a 10-mile radius. Big Saving and Earn Rolling Reward Points for Orders Over $250.
* Please check our Terminology page for additional information.
Model #
Inside Dim.
Description
Combined Order
≥ $100
Combined Order
≥ $250
Combined Order
≥ $500
Quantity
(Box)
L x W x H
1 Bundle
1 Skid
2 Skid
Qty
Price Per Box
Qty
Price Per Box
Qty
Price Per Box
CBB047-161104E3S
4 11/16x16 1/8x10 3/8"
32 ECT S/W Bin Box
50
$ .88
550
$ .82
1,100
$ .79
CBB077-161104E3S
7 11/16 x 16 1/8 x 10 3/8"
32 ECT S/W Bin Box
50
.99
550
.93
1,100
.89
CBB080-220160E4S
8 x 22 x 16"
40 ECT S/W Bin Box
25
1.50
250
1.40
500
1.35
CBB109-290115T3S
10 7/8 x 29 x 11 1/2"
200 LB S/W Bin Box
25
2.35
250
2.20
500
1.99
CBB120-120080E3S
12 x 12 x 8"
32 ECT S/W Bin Box
25
.99
500
.93
1,000
.89
CBB120-220180E4S
12 x 22 x 18"
40 ECT S/W Bin Box
25
2.10
250
1.85
500
1.75