Poly Mailers - Self Seal
Free Same Day Delivery* available for qualified orders! Get Big Saving and Earn Rolling Reward Points for Orders Over $250.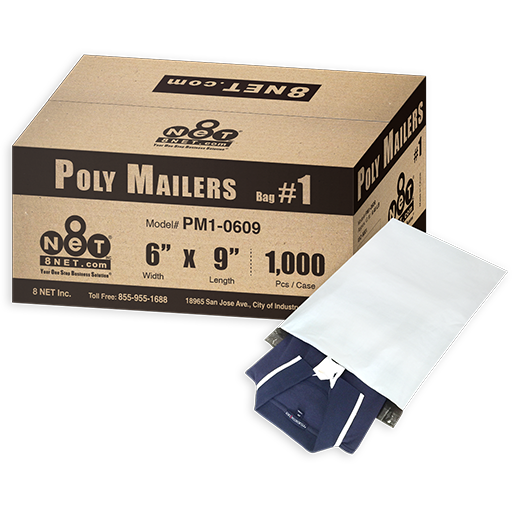 2 MIL thickness poly mailer bags.
Self-sealing, pressure sensitive adhesive provides a high strength, durable closure.
Opaque materials convenient for protect your privacy with a professional appearance. Water resistant.
Great for shipping light and less fragile products.
Case Quantities
Model #
Bag#
Inside
Qty/
Case
Cases/
Skid
Price Per Case
Redeem
for Free
(Case)
Order Qty.
(Case)
1
10
20
Skid

Or Stacking Discount ≥

W x L

$100

$250

$500

$1,000

PM1-0609
# 1
6 x 9"
1000
100
$ 27
$23 Any Qty.
1000
PM2-0710
# 2
7 1/2 x 10 1/2"
1000
135
38
36
32
30
1500
PM3-0912
# 3
9 x 12"
1000
90
47
44
41
39
1500
PM4-1013
# 4
10 x 13"
1000
90
58
53
46
46
2000
PM5-1215
# 5
12 x 15 1/2"
500
105
44
38
38
38
2000
PM7-1419
# 7
14 1/2 x 19"
500
72
65
60
56
53
2500
PM8-1924
# 8
19 x 24"
300
60
63
58
54
52
2500
PM9-2424
# 9
24 x 24"
300
90
78
65
65
65
2500
Pack Quantities (Small Package)
Model #
Bag #
Inside
Pcs/
Pk
Packs/
Case
Price Per Pack
Redeem
for Free
(Pack)
Order Qty.
(Pack)
1
2
3
5

Or Stacking Discount ≥

W x L

$100

$250

$500

$1,000

PM1-0609P
# 1
6 x 9"
100
10
$ 4.80
$ 3.80
$ 3.80
$ 3.80
150
PM2-0710P
# 2
7 1/2 x 10 1/2"
100
10
5.56
4.56
4.56
4.56
150
PM3-0912P
# 3
9 x 12"
100
10
6.58
5.58
5.58
5.58
150
PM4-1013P
# 4
10 x 13"
100
10
7.25
6.58
6.58
6.58
150
PM5-1215P
# 5
12 x 15 1/2"
100
5
8.15
7.50
7.50
7.50
300
PM7-1419P
# 7
14 1/2 x 19"
100
5
14.25
12.15
12.15
12.15
300
PM8-1924P
# 8
19 x 24"
50
6
12.25
10.15
10.15
10.15
300
PM9-2424P
# 9
24 x 24"
50
6
14.25
12.15
12.15
12.15
400