Opening New Account Sale Verification /Credit Application Forms
Pickup/Will Call Tax Information
For immediate assistance
Contact our Customer Service department at (855) 955-1688 to speak with one of our Customer Service Representative.
Opening New Account
Click on Here to create a new account.
Download PDF
For Credit Application Forms, download the PDF forms.
Payment Methods
8 NET Inc. accepts the following forms of payment:
Visa
MasterCard
American Express
Discover Card
Money Order
Cashiers Check
Corporate Check
C.O.D.
Tax Information
The Seller requires the Buyer to provide a valid resale certificate prior to first order. If a Buyer cannot provide a valid resale certificate, liability for all taxes and
import or export duties, imposed by any city, federal or other governmental levies, shall be assumed and paid by Buyer. Buyer further agrees to indemnify
Seller against any and all liabilities for such taxes or duties and legal fees or costs incurred by Seller in connection therewith.
Shipment
Shipping dates and times are approximate and are not guaranteed. Seller shall not be liable for delays in delivery or failure to manufacture or deliver due to
causes beyond its reasonable control, including but not limited to acts of God, acts of Buyer, fires, strikes, flood, riot, war, delays in transportation, inability to
obtain necessary labor, materials or components. In the event of any such delay the date of delivery shall be extended for a period equal to the time lost by
reason of such delay. If delivery becomes impossible Seller shall have the right to cancel the contract without further liability to Buyer. Cancellation of any part
of this order shall not affect Seller's right to obtain payment for any product delivered hereunder. On any order for release against an order for goods, Seller
reserves the right to ship and invoice for a quantity on the individual release and the Buyer shall accept delivery and pay for such revised quantity and consider
the shipment to be complete.
Delivery
F.O.B. points, freight allowances and other transportation arrangements applicable to this sale shall be as set forth in Seller's published sales policy statements.
Seller will not consider claims for errors, damages or shortages in shipments unless notified to Seller in writing within seven (7) days of the date of shipment and
accompanied by documents sufficient to substantiate the claim.
FREE Delivery Minimum
$250 within 15 mile radius of 8 NET (91748), or $25 will apply; $500 within 50 mile radius of 8 NET (91748), or $50 will apply. Additional surcharges may apply
for orders that are beyond a 50-mile radius or outside our delivery area.
Pickup/Will Call
Location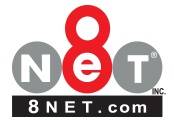 Corporate Headquarters
18669 San Jose Ave.
City of Industry, CA 91748
(855) 955-1688
Maps & Directions
Coming from the West:
Merge onto US-101 S
Take the exit onto CA-60 E toward Pomona
Take exit 19 for Fullerton Rd
Turn left onto Fullerton Rd (signs for Fullerton Road N)
Turn right onto San Jose Ave
18669 San Jose Ave. is on the left
Coming from the East:
Merge onto CA-60 W/Pomona Fwy W toward Riverside
Take the Fullerton Rd exit, EXIT 19
Turn right onto Fullerton Rd.
Take the 3rd right onto San Jose Ave. (San Jose Ave is 0.2 miles past Railroad St)
18669 San Jose Ave. is on the left
Hours of Operation
Monday-Friday 9:00 AM to 5:00 PM/Closed Saturdays & Sundays and Holidays
2015 Holiday Schedule:
Thursday, January 1st New Year's Day
Monday, May 25th Memorial Day
Friday, July 3rd Independence Day
Monday, September 7th Labor Day
Thursday, November 26th Thanksgiving Day
Friday, November 27th Friday after Thanksgiving
Friday, December 25th Christmas Day
Return Policy
No merchandise will be accepted for return and/or credit without prior consent of the Seller. All of the following conditions must be met before any consideration
will be given for a return and/or credit of the merchandise:
A.) Buyer must notify the Seller of the return in writing within 7 days of invoice and items must be returned within 30 days.
B.) All returned merchandise must be clearly labeled with a RMA number issued by the Seller.
C.) All Returned goods must be in original packaging and resalable condition.
D.) All authorized returns are subject to a 15% restocking charge. Customer responsible for shipping and transportation costs for all returns.
Return of Special Merchandise
No credit or exchange will be given for the return of any closeout, special, or custom ordered items.
Privacy Policy
At 8 Net Inc. the privacy of our visitors is of extreme importance to us. This privacy policy document outlines the types of personal information is received and
collected by www.8net.com and how it is used. This notice describes our privacy policy. By visiting www.8net.com, you are accepting the practices described
in this policy.
Personally Identifiable Information
We receive and store any information you enter on our Website or give us in any way. We use the information that you provide for the purpose of responding
to your requests, improving our store, and communicating with you.
Log Files
Like many other Web sites, www.8net.com makes use of log files. The information inside the log files includes internet protocol ( IP ) addresses, type of
browser, Internet Service Provider ( ISP ), date/time stamp, referring/exit pages, and number of clicks to analyze trends, administer the site, track user's
movement around the site, and gather demographic information. IP addresses, and other such information are not linked to any information that is personally
identifiable.
Cookies and Web Beacons
We use cookies to store information about visitor' preferences, record user-specific information on which pages the user access or visit, customize Web page
content based on visitors browser type or other information that the visitor sends via their browser.
Information Security (SSL)
We work to protect the security of your information during checkout by using Secure Sockets Layer (SSL) software, which encrypts information you input.
Q & A
Corrugated Boxes:
1. What is better to ship in; stock boxes or custom corrugated boxes?
Answer: It depends on lead time, quantity, fit and artwork. Stock boxes are readily available and come in
varying bundled quantities. Custom corrugated boxes require a longer lead time and there could be a one-
time cutting die charge.
2. What does RSC stand for?
Answer: RSC stands for Regular Slotted Carton or Regular Slotted Shipping Container. This is the most
common box style. All flaps are the same depth, and the two outer flaps are 1/2 the containers' width,
and they meet at the center of the box.
3. What is a Nuna Flap?
Answer: A nuna flap is a piece of corrugated material on the top flap that keeps the flaps open until the
customer cuts it out. The flap keeps the box straight and provides additional strength when the box
passes through the folder/gluer section.
4. What does ECT stand for?
Answer: ECT stands for Edge Crush Test. This is one of two tests used to determine corrugated material
strength. The Edge Crush Test has achieved widespread acceptance in the industry.

Labels:
1. What do I need to get started?
Answer: You will need: A thermal printer, a PC compatible computer, Label creation software, cables to
connect the printer to the computer, labels, and thermal transfer ribbons. We can provide Direct Thermal
Labels, Thermal Transfer Labels, and Thermal Transfer Ribbons.
2. What is the difference between Direct Thermal & Thermal Transfer?
Answer: Direct Thermal material has a coating that is heat-reactive. The image is produced when the
print head dots heat up and fire against the label causing the dyes and solvents to react to the heat and
form an image onto the face stock. The material is more expensive than thermal transfer, and does not
require the purchase of ribbons. Thermal Transfer printing requires a ribbon. The image is produced when
the print head dots fire against the ribbon and transfers the image onto the face of the stock. The material
cost is less expensive than Direct Thermal, but does require the purchase of ribbons.
3. What type of adhesive do I need? Permanent-Removable -Repositionable -Static Cling
Answer: The type of adhesive depends on the following: What is the label being applied to? At what
temperature will the label be applied? Will the label be exposed to any extreme temperatures, the
outdoors, or subject to any process that will or could affect the integrity of the label? If the label is going
to be removed, how long will it be before it is removed?
4. What are the key factors in selecting a ribbon?
Answer: There are several important factors to consider when selecting a ribbon: Ribbon width and
ribbon type. Wax ribbon is the lowest cost and is typically used when long term is not an issue. Typical
uses are shipping labels, pricing labels, or other indoor applications. Resin ribbon is the most expensive,
but the imprint is very durable and resistant to most chemicals. They are best for printing on
syntheticsmaterials such as polyester, polymide, etc. Wax/Resin ribbon is more expensive, but the
imprint is moreresistant to scratching and smearing and can resist mild chemicals. They are best for
printing on coated paper, coated tags and films.

Toner & Copy Paper:
1. Will the use of a non-original toner void the warranty of my printer?
Answer: No, most laser equipment manufacturers do not recommend the use of another toner other than
the original one as they want to keep control of the market.
2. What is a remanufactured cartridge?
Answer: A remanufactured cartridge is a recycled and refilled cartridge that is tested to insure that it
provides the same performance as a new, non–recycled cartridge.
3. Are there any hazards involved with the handling of toner?
Answer: No, toner is a nontoxic substance composed of plastic, iron, and a small amount of pigment.
4. What is the difference between toner cartridge and drum cartridge?
Answer: The toner cartridge holds the black and color toner that is transferred to the drum. The drum is
what holds the image itself.
Shipping Supplies:
1. What is the best way to dispose a utility knife blade?
Answer: Put it in a container.
2. When do I use stretch wrap rolls?
Answer: Stretch wrap roll is used to hold boxes and products together on a pallet for transportation. It can
also be used to hold other object together and protect objects during transportation and storage.
3. Is the wire shelving adjustable or is the middle shelf fixed in place?
Answer: The shelves are easily adjustable for your industrial and commercial storage.
4. What is the difference between a 2-way pallet and a 4-way pallet?
Answer: A 2-way pallet can only be entered into with a forklift through 2 ends, while a forklift can enter a
4-way pallet from all sides.

Janitorial Supplies:
1. Are tissues, paper towels, and napkins recyclable?
Answer: No, tissues and paper towels are not recyclable because they may have food, germs, mold, etc.
that will contaminate other items to be recycled.
2. Is the "green product" toilet paper better than the normal toilet paper?
Answer: The 'green product" toilet paper is made from responsibly managed forests, is chlorine free, and
is packaged in environmentally responsible plastic wrap, is soft, but lacked strength and its tearing ease is
poor. Toilet papers made from recycled content are worse because of their roughness and middling
strength and tearing ease.
3. Is there a difference between a soap dispenser and a lotion dispenser?
Answer: There is no difference between soap dispenser and lotion dispenser, and they both work the
same.
4. After you punch a hole in the toilet seat cover, does the flap hang down to the front or back?
Answer: It hangs in the front. The shallow end of the toilet bowl is in the front, so if you set it like that, the
cover will catch a little bit of the water and actually stay in place.
Safety Products:
1. What are your safety glasses made of?
Answer: Most of our safety glasses are made of polycarbonate. Polycarbonate is a strong plastic that
resists shattering, scratching, and blocks 99.9% of UVA and UVB rays.
2. In reference to earplugs, what does 'NRR' stand for?
Answer: NRR stands for Noise Reduction Rating, which is the measurement in decibels, of how well a
hearing protector reduces noise by.
3. When should I use a high visibility vest?
Answer: You wear a high visibility (Hi Vis) vest whenever you need to be seen. Vests are important traffic
safety products and should be worn in required areas.
4. How do I decide between a zipper front and hook-and-loop front safety vest?
Answer: Safety vests with a zipper in front tend to fasten more securely. Safety vests with a hook-and-
loop closure can be removed quickly in case of emergency.
Office Furniture:
1. What is the difference between an Executive chair, an ergonomic office chair and a computer chair?
Answer: An Executive chair has a high back seating, comfortable, bound in leather and more plush. An
ergonomic office chair provides lower back support, promotes good posture and helps alleviate back pain.
A computer chair is a basic PC chair and comes with a variety of mechanisms that control the tilt angle,
and also a fatigue reducing device on the bottom of the chair seat. This device will enable the chair to
move forward and backward as this will help to support your back at all times.
2. What is a mesh chair?
Answer: A mesh chair offers breathability, cooling comfort with both passive and active ergonomic
adjustability.
3. Is the conference table made of real wood?
Answer: The conference table is made of Cherry wood laminate or Mahogany wood laminate.
4. How do you clean a laminate wood table?
Answer: You can wash the laminate wood by using soapy warm water, rinse with plain water and leave to
dry. To remove stains or grease, use hot water mixed with a little vinegar.