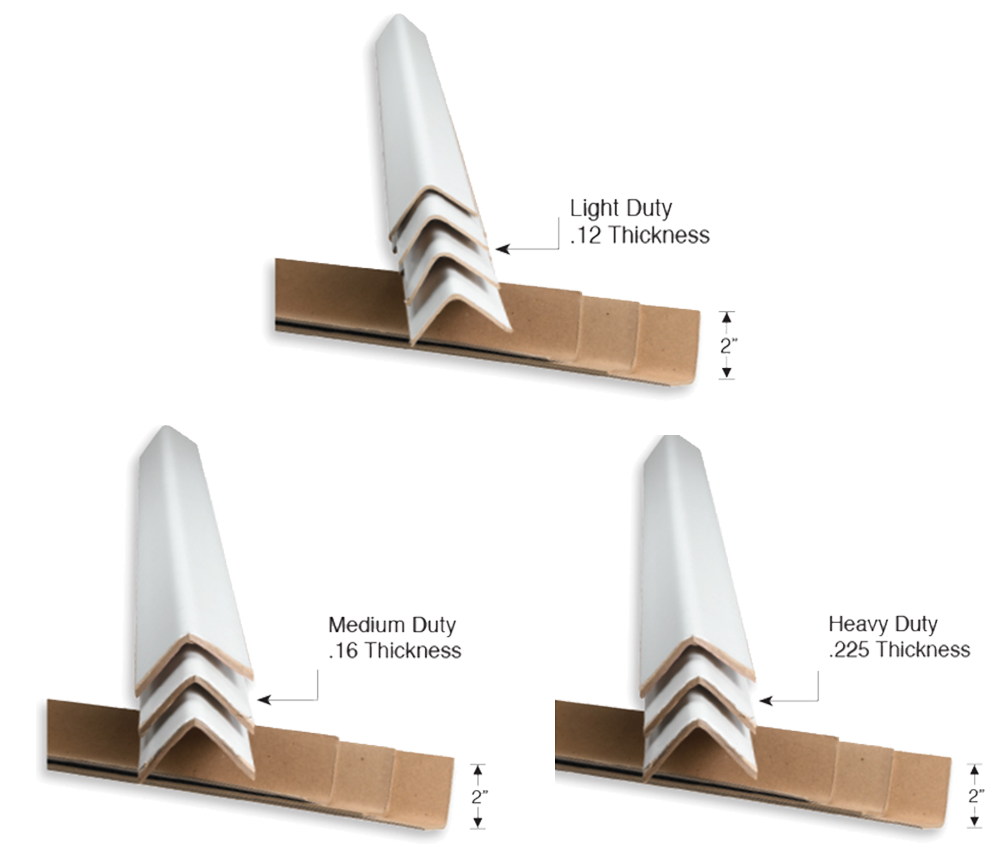 Description: V-shaped cardboard edge protectors eliminate packaging shifting and minimizes damage during transportation or storage. Made from 100% recyclable cardboard, eco-friendly material. Three different thickness option available in a wide range of lengths (36", 40", 48", 60", 72", 84", 96").
Best used in: Commonly used as additional support to prevent load corner damage and to maintain vertical stability. You can secure edge protectors to a load with staples or stretch film. Packing corner protectors can also be used as a cushion between steel or poly strapping and the package.
Same Day Delivery within a 10-mile radius. Big Saving and Earn Rolling Reward Points for Orders Over $250.
* Please check our Terms of Sale page for additional information.
Stacking Discounts: The Higher your order subtotal (before tax and freight), the greater the Savings!** Orders totaling more than $250, $500 and $1,000 will save increasingly more on Each Item. Our Stacking Discounts give you the best option for your needs.
**Order subtotal must be a MINIMUM of $250, $500, or $1,000 AFTER discount is applied to each item.
Light Duty (Thickness: .120)
Model #
Size
Length
Qty/
Bndl
Qty/
Skid
Price Per Bundle
Qty
(Bundle)
Skid Lots
Qty
(Skid)
1
6
12

≥ $100

≥ $250

≥ $500

EP-12-2036
2" x 2"
36"
60
2,808
$ 31.20
$ 25.80
$ 23.40
$ 786.24
EP-12-2040
2" x 2"
40"
80
2,808
44.00
36.80
32.80
926.64
EP-12-2048
2" x 2"
48"
60
2,808
40.20
34.20
30.00
1,038.96
EP-12-2060
2" x 2"
60"
80
2,808
57.60
48.80
44.00
1,179.36
EP-12-2072
2" x 2"
72"
60
2,808
55.30
50.40
48.30
1,544.40
EP-12-2084
2" x 2"
84"
60
1,512
58.80
49.80
46.80
937.44
EP-12-2096
2" x 2"
96"
50
1,512
52.50
47.50
44.50
1,134.00
Medium Duty (Thickness: .160)
Model #
Size
Length
Qty/
Bndl
Qty/
Skid
Price Each
Qty
(Bundle)
Skid Lots
Qty
(Skid)
1
6
12

≥ $100

≥ $250

≥ $500

EP-16-2036
2" x 2"
36"
50
2,106
$ 31.50
$ 27.50
$ 24.00
$ 800.28
EP-16-2048
2" x 2"
48"
50
2,106
42.50
37.50
33.50
1,137.24
EP-16-2060
2" x 2"
60"
60
2,210
52.80
45.00
40.80
1,259.70
EP-16-2084
2" x 2"
84"
40
1,134
58.80
51.20
46.00
1,043.28
EP-16-2096
2" x 2"
96"
40
1,134
70.00
58.00
51.20
1,202.04
Heavy Duty (Thickness: .225)
Model #
Size
Length
Qty/
Bndl
Qty/
Skid
Price Each
Qty
(Bundle)
Skid Lots
Qty
(Skid)
1
6
12

≥ $100

≥ $250

≥ $500

EP-22-2048
2" x 2"
48"
35
1,560
$ 38.50
$ 32.90
$ 30.80
$ 1,154.40
EP-22-2072
2" x 2"
72"
35
1,500
61.25
48.30
45.85
1,725.00