Packing List Envelopes - Adhesive
Free Same Day Delivery* available for qualified orders! Get Big Saving and Earn Rolling Reward Points for Orders Over $250.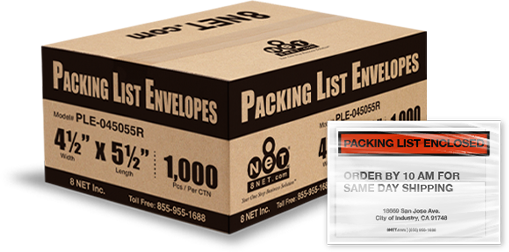 Water-resistant material protects your documents in transit.
Pressure-sensitive backing sticks allow for strong attaching with no need for tape.
Bright red panel provides visual enhancement.
Packing List Envelopes - Adhesive
Model #
Outside
Qty/
Case
Price Per Case
Redeem
for Free
(Case)
Order Qty.
(Case)
1
3
5
10
W x L

Or Combined Order ≥

$100

$250

$500

$1,000

PLE-045055R
4 1/2 x 5 1/2"
1000
$ 31
$ 27
$ 24
$ 20
750
PLE-055100R
5 1/2 x 10"
1000
62
54
48
40
1500
PLE-075055R
7 1/2 x 5 1/2"
1000
28
26
24
22
1000