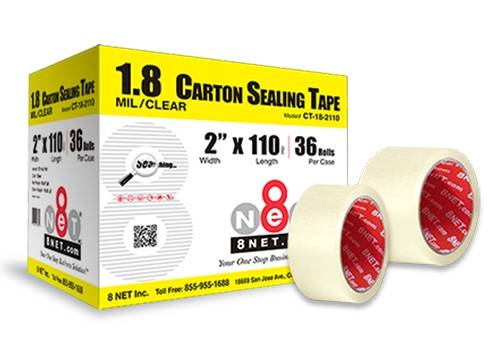 Best-selling carton sealing tape, 1.8 / 2.0 / 2.6 MIL thickness available.

Strong solvent acrylic adhesive sticks to any surface.

Strong, reliable and stands up to all weather conditions.

Meets UPS and US postal regulations. Three colors (Clear, Brown, Tan) available.
Same Day Delivery within a 10-mile radius. Big Saving and Earn Rolling Reward Points for Orders Over $250.
* Please check our Terms of Sale page for additional information.
Stacking Discounts: The Higher your order subtotal (before tax and freight), the greater the Savings!** Orders totaling more than $250, $500 and $1,000 will save increasingly more on Each Item. Our Stacking Discounts give you the best option for your needs.
**Order subtotal must be a MINIMUM of $250, $500, or $1,000 AFTER discount is applied to each item.
1.8 MIL - Economy
Model #
Size
Color
Roll/
Case
Case/
Pallet
Price Per Case


(Combined Order ≥)

Redeem for Free
Order
Qty
(Case)

≥ $100

≥ $250

≥ $500

≥ $1,000

1
10
20
40
CT-18-2110
2" x 110 yds
Clear
36
105
$ 34.56
$ 29.52
$ 28.08
$ 25.92
500
CT-18-2110-B
2" x 110 yds
Brown
36
105
34.56
29.52
28.08
25.92
500
CT-18-2110-T
2" x 110 yds
Tan
36
105
34.56
29.52
28.08
25.92
500
CT-18-3110
3" x 110 yds
Clear
24
105
34.56
29.52
28.08
25.92
700
CT-18-3110-B
3" x 110 yds
Brown
24
105
34.56
29.52
28.08
25.92
700
2.0 MIL - Industrial
Model #
Size
Color
Roll/
Case
Case/
Pallet
Price Per Case


(Combined Order ≥)

Redeem for Free
Order
Qty
(Case)

≥ $100

≥ $250

≥ $500

≥ $1,000

1
10
20
40
CT-20-2110
2" x 110 yds
Clear
36
105
$ 40.68
$ 36.36
$ 33.12
$ 28.80
700
CT-20-2110-B
2" x 110 yds
Brown
36
105
40.68
36.36
33.12
28.80
700
CT-20-3110
3" x 110 yds
Clear
24
105
40.68
36.36
33.12
28.80
800
CT-20-3110-B
3" x 110 yds
Brown
24
105
40.56
36.36
33.12
28.80
800
CT-20-3110-T
3" x 110 yds
Tan
24
105
40.68
36.36
33.12
28.80
800
2.6 MIL - Heavy Duty
Model #
Size
Color
Roll/
Case
Case/
Pallet
Price Per Case


(Combined Order ≥)

Redeem for Free
Order
Qty
(Case)

≥ $100

≥ $250

≥ $500

≥ $1,000

1
10
20
40
CT-26-2110
2" x 110 yds
Clear
36
84
$ 63.36
$ 55.08
$ 50.76
$ 41.40
900
CT-26-3110
3" x 110 yds
Clear
24
84
63.60
54.96
50.88
41.52
1000