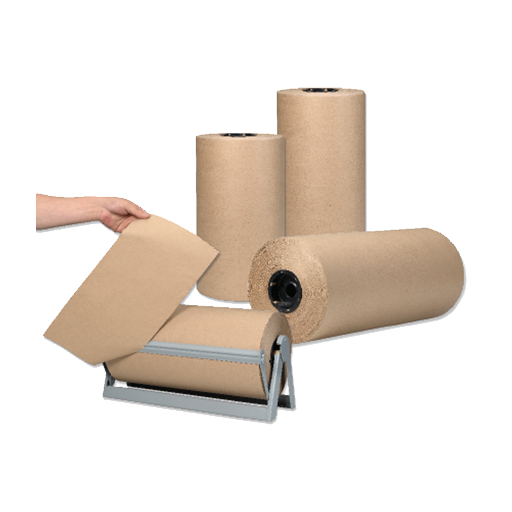 Kraft Paper Rolls
Description: Our high quality Kraft paper is an economical solution for all shipping needs. Great versatility for use as void space fill, protective wrapping, or product interleaving.
Best used in: Protecting fragile items, such as ceramic and glass. Use accordingly to save on product. 
Same Day Delivery within a 10-mile radius. Big Saving and Earn Rolling Reward Points for Orders Over $250.
* Please check our Terms of Sale page for additional information.
Model #
M Weight
Roll Size
Roll/
Skid
Price Per Roll
Qty
(Roll)
W x L
1 Roll
5 Rolls
10+ Rolls
KPR-30-09
30 lb.
9" x 1,200'
100
$ 10.90
$ 9.80
$ 8.50
KPR-30-12
30 lb.
12" x 1,200'
50
12.50
11.00
9.99
KPR-30-18
30 lb.
18" x 1,200'
25
16.80
15.30
13.95
KPR-30-24
30 lb.
24" x 1,200'
50
23.50
21.30
19.80
KPR-30-36
30 lb.
36" x 1,200'
25
35.50
33.00
31.00
KPR-30-48
30 lb.
48" x 1,200'
25
44.50
42.00
38.30
KPR-40-18
40 lb.
18" x 900'
50
17.90
16.50
14.95
KPR-40-24
40 lb.
24" x 900'
50
23.50
21.00
19.80
KPR-40-36
40 lb.
36" x 900'
25
38.00
35.00
31.00
KPR-40-48
40 lb.
48" x 900'
25
47.00
44.00
41.00
KPR-50-12
50 lb.
12" x 720'
75
14.00
12.00
11.00
KPR-50-18
50 lb.
18" x 720'
50
18.00
16.00
13.90
KPR-50-24
50 lb.
24" x 720'
50
24.00
22.00
19.90
KPR-50-36
50 lb.
36" x 720'
25
37.00
35.00
32.00
KPR-50-48
50 lb.
48" x 720'
25
46.00
43.00
41.00
KPR-60-24
60 lb.
24" x 600'
50
24.00
22.00
18.90
KPR-60-36
60 lb.
36" x 600'
25
37.00
35.00
32.00
KPR-60-48
60 lb.
48" x 600'
25
49.00
46.00
43.00