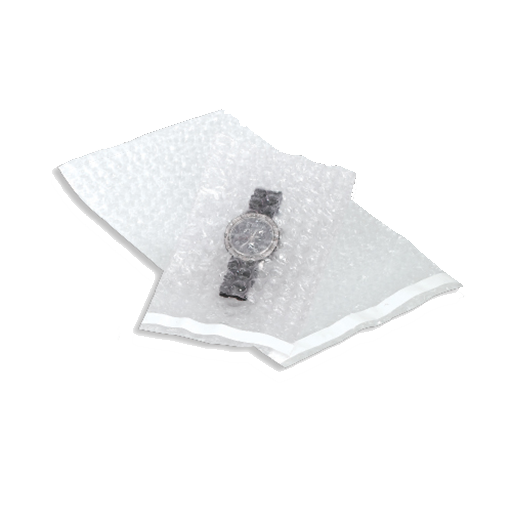 Self-Seal Bubble Bag
Description: Made with Low-Density Polyethylene resins and 3/16" Bubble Lining for cost-effective cushioning. These bubble bags are self-sealable which will save you time and money on additional shipping tape.
Best used in: Great for packaging delicate or valuable items for storage or shipping. These can include jewelry, small electronics, and valuables that need cushioning during shipping. For best results be sure to use our quality shipping boxes
Same Day Delivery within a 10-mile radius. Big Saving and Free Gifts for Orders Over $150.
* Please check our Terminology page for additional information.
Model #
Inside
Qty
/Case
Price Per Case
Promo Price
Any Case Qty
Qty
(Case)
W x L
1 Case
3 Cases
5+ Cases
BB3S-0405
4" x 5.5"
1500
$ 104.00
$ 85.00
$ 80.00
$ 80.00
BB3S-0407
4" x 7.5"
1100
92.00
75.00
72.00
72.00
BB3S-0608
6" x 8.5"
650
84.00
68.00
65.00
65.00
BB3S-0708
7" x 8.5"
550
80.00
66.00
62.00
62.00
BB3S-0711
7" x 11.5"
400
69.00
56.00
53.00
53.00
BB3S-0811
8" x 11.5"
350
67.00
55.00
52.00
52.00
BB3S-0815
8" x 15.5"
300
77.00
63.00
60.00
60.00
BB3S-0817
8" x 17.5"
250
75.00
61.00
58.00
58.00
BB3S-1015
10" x 15.5"
250
68.00
56.00
53.00
53.00
BB3S-1211
12" x 11.5"
250
73.00
60.00
57.00
57.00
BB3S-1215
12" x 15.5"
200
72.00
59.00
56.00
56.00
BB3S-1223
12" x 23.5"
150
72.00
59.00
56.00
56.00
BB3S-1517
15" x 17.5"
150
74.00
61.00
58.00
58.00
BB3S-1823
18" x 23.5"
100
70.00
57.00
54.00
54.00