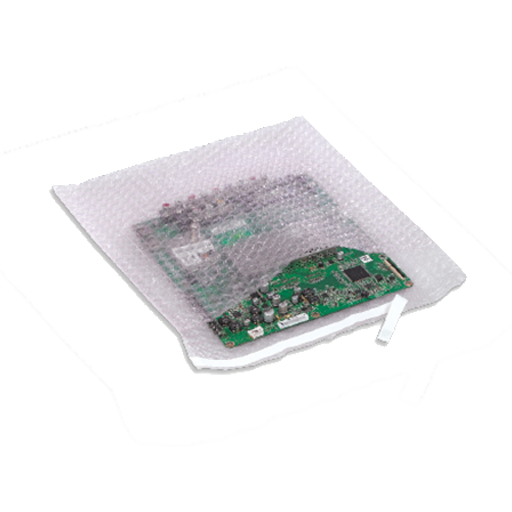 Anti-Static Self-Seal Bubble Bag
Anti-Static Self-Seal Bubble Bag
Description: Provides electrical insulation to protect against static discharge for sensitive products. 3/16" Bubble Lining for cushioning.
Best used in: Shipping and storing fragile electronic components such as processors, board and any other open electrical items without protective covers.
Same Day Delivery within a 10-mile radius. Big Saving and Earn Rolling Reward Points for Orders Over $250.
* Please check our Terms of Sale page for additional information.
Stacking Discounts: The Higher your order subtotal (before tax and freight) is, the greater the Savings! Orders totaling more than $250, $500 and $1,000 will save increasingly more on Each Item. Our Stacking Discounts give you the best option for your packaging needs.
Anti-Static Self-Seal Bubble Bag
Model #
Inside
Qty
/Case
Price Per Case
Qty
(Case)
W x L
1 Case
3 Cases
5+ Cases

≥ $100

≥ $250

≥ $500

BB4A-0405
4" x 5.5"
1500
$ 125.00
$ 115.00
$ 110.00
BB4A-0407
4" x 7.5"
1100
118.00
106.00
102.00
BB4A-0608
6" x 8.5"
650
99.00
88.00
85.00
BB4A-0708
7" x 8.5"
550
105.00
93.00
88.00
BB4A-0711
7" x 11.5"
400
89.00
79.00
76.00
BB4A-0811
8" x 11.5"
350
88.00
78.00
75.00
BB4A-0815
8" x 15.5"
300
99.00
88.00
85.00
BB4A-0817
8" x 17.5"
250
97.00
86.00
83.00
BB4A-1015
10" x 15.5"
250
88.00
78.00
75.00
BB4A-1211
12" x 11.5"
250
95.00
84.00
81.00
BB4A-1215
12" x 15.5"
200
89.00
79.00
76.00
BB4A-1223
12" x 23.5"
150
93.00
82.00
79.00
BB4A-1517
15" x 17.5"
150
97.00
86.00
83.00
BB4A-1823
18" x 23.5"
100
91.00
80.00
77.00