Variable Depth Corrugated Boxes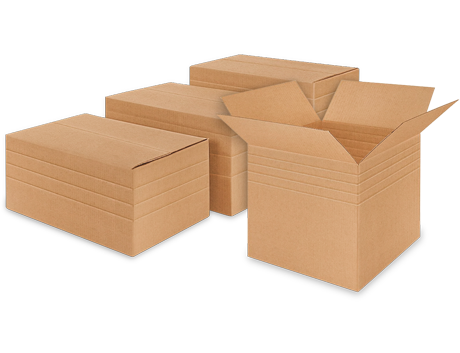 Description:Multiple Sizes in 1 Box, Just Cut to the Size You Need. Minimize shipping dimensional weight pricing by removing unnecessary box height. Sides are creased at specific heights, simply cut to the height needed, fold and you have a different size box size. For best results use our industrial carton sealing tape.

*Please check our Terms of Sale page for additonal information

Free Same Day Delivery* available! Big Saving and Earn Rolling Reward Points for Orders Over $250.
Variable Depth Corrugated Boxes
Model #
Inside Dim.
Description
Qty
Price Per Box
Quantity
(Box)
Combined Discount
L x W x H
Bndl / Skid

Bndl

1 Skid

2 Skids

3 Skids

or ≥ $100

or ≥ $250

or ≥ $500

or ≥ $1,000

CB150-120080E3S-V
15 x 12 x 8"- Var. Depth
32 ECT S/W RSC
8, 6''
25 / 500
$ .82
$ .78
$ .62
$ .69
CB170-140090E3S-V
17 x 14 x 9" - Var. Depth

32 ECT S/W RSC
9, 7''

25 / 250
1.34
1.26
1.19
1.13
CB210-170150E3S-V
21 x 17 x 15" - Var. Depth
32 ECT S/W RSC
15, 13, 11, 9''
15 / 240
2.20
2.05
1.95
1.85
CB240-240240T3D-V
24 x 24 x 24" - Var. Depth
200 LB D/W RSC
24, 22, 20, 18, 16''
10 / 80
6.20
5.70
5.40
5.10
CB260-200120E3S-V
26 x 20 x 12" - Var. Depth
32 ECT S/W RSC
12, 10, 8, 6, 4''
10 / 120
2.30
2.10
1.95
1.83
CB260-260060E3S-V
26 x 26 x 6" - Var. Depth
32 ECT S/W RSC
6, 5, 4''
15 / 120
2.65
2.50
2.30
2.15
CB270-270080T3S-V
27 x 27 x 8" - Var. Depth
200 LB S/W RSC
8, 6, 4''
10 / 120
3.95
3.80
3.65
3.40
CB290-290090T3S-V
29 x 29 x 9" - Var. Depth
200 LB S/W RSC
9, 7, 5''
10 / 120
5.20
4.70
4.47
3.98