Printers Boxes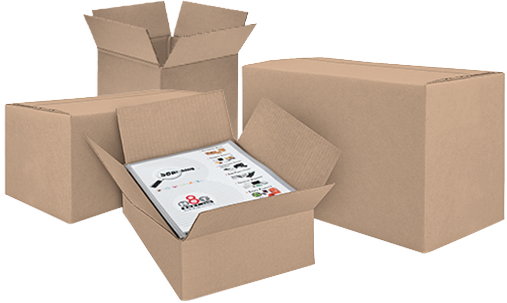 High-quality corrugated shipping boxes that are selected mainly for the commercial printing industry. Printers boxes are available in various sizes, easy to set up and pack for holding up reams, flyers, brochures, and forms. Large quantity or custom imprint, please contact us for a quote.
Best used in: Great for packaging products for shipping or storage. Boxes are rated for items up to 65 lbs. For best results use our Steel strapping and Polyester strapping.
Same Day Delivery within a 10-mile radius. Big Saving and Earn Rolling Reward Points for Orders Over $250.
* Please check our Terms of Sale page for additional information.
Stacking Discounts: The Higher your order subtotal (before tax and freight), the greater the Savings!** Orders totaling more than $250, $500 and $1,000 will save increasingly more on Each Item. Our Stacking Discounts give you the best option for your needs.
**Order subtotal must be a MINIMUM of $250, $500, or $1,000 AFTER discount is applied to each item.
Model #
Inside Dim.
Description
Qty
Price Per Box
Quantity
(Box)
Combined Discount
L x W x H
Bndl / Skid

Bndl

1 Skid

2 Skids

3 Skids

or ≥ $100

or ≥ $250

or ≥ $500

or ≥ $1,000

CB112-087030E3S
11 1/4 x 8 3/4 x 3"
32 ECT S/W RSC
25 / 1000
$ .44
$ .41
$ .38
$ .36
CB112-087040E3S
11 1/4 x 8 3/4 x 4"
32 ECT S/W RSC
25 / 1000
.45
.42
.39
.37
CB112-087060E3S
11 1/4 x 8 3/4 x 6"
32 ECT S/W RSC
25 / 750
.52
.49
.45
.43
CB112-087080E3S
11 1/4 x 8 3/4 x 8"
32 ECT S/W RSC
25 / 500
.57
.54
.50
.48
CB112-087100E3S
11 1/4 x 8 3/4 x 10"
32 ECT S/W RSC
25 / 500
.62
.58
.54
.51
CB112-087120E3S
11 1/4 x 8 3/4 x 12"
32 ECT S/W RSC
25 / 500
.65
.61
.57
.53
CB112-087120T3S
11 1/4 x 8 3/4 x 12"
200 LB S/W RSC
25 / 500
.73
.68
.63
.59
CB122-092062E3S
12 1/4 x 9 1/4 x 6 1/4"
32 ECT S/W RSC
25 / 750
.56
.53
.50
.46
CB122-092090E3S
12 1/4 x 9 1/4 x 9"
32 ECT S/W RSC
25 / 750
.66
.61
.58
.53
CB122-092120E3S
12 1/4 x 9 1/4 x 12"
32 ECT S/W RSC
25 / 500
.81
.80
.77
.74
CB140-100100E3S
14 x 10 x 10"
32 ECT S/W RSC
25 / 500
.69
.65
.62
.59
CB172-112060E3S
17 1/4 x 11 1/4 x 6"
32 ECT S/W RSC
25 / 500
.78
.72
.69
.66
CB172-112080E3S
17 1/4 x 11 1/4 x 8"
32 ECT S/W RSC
25 / 500
.84
.82
.78
.76
CB180-120030E3S
18 x 12 x 3"
32 ECT S/W RSC
25 / 375
.77
.70
.65
.62
CB180-120040E3S
18 x 12 x 4"
32 ECT S/W RSC
25 / 375
.78
.71
.66
.63
CB180-120060E3S
18 x 12 x 6"
32 ECT S/W RSC
25 / 375
.85
.78
.72
.68
CB180-120080E3S
18 x 12 x 8"
32 ECT S/W RSC
25 / 375
.94
.89
.83
.78
CB180-120100E3S
18 x 12 x 10"
32 ECT S/W RSC
25 / 375
.97
.92
.89
.86
CB180-120120E3S
18 x 12 x 12"
32 ECT S/W RSC
25 / 250
.98
.94
.91
.89
CB180-140040E3S
18 x 14 x 4"
32 ECT S/W RSC
25 / 375
.89
.84
.79
.75
CB180-140060E3S
18 x 14 x 6"
32 ECT S/W RSC
25 / 375
.91
.86
.81
.77
CB200-160040E3S
20 x 16 x 4"
32 ECT S/W RSC
25 / 250
1.25
1.18
1.08
1.02
CB220-180040E3S
22 x 18 x 4"
32 ECT S/W RSC
20 / 240
1.50
1.38
1.25
1.17
CB240-180040E3S
24 x 18 x 4"
32 ECT S/W RSC
25 / 250
1.66
1.49
1.42
1.37
CB260-200160T3S
26 x 20 x 16"
200 LB S/W RSC
10 / 120
2.58
2.42
2.27
2.15
CBP400-480E3S
40 x 48"
32 ECT S/W PAD
50 / 300
1.38
1.28
1.20
1.10