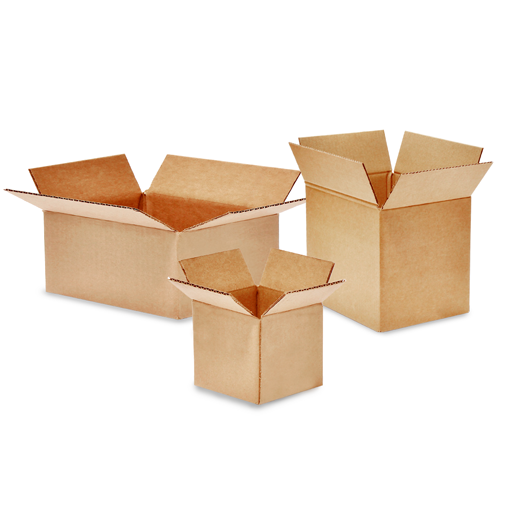 Amazing Box Deal
We offer high-quality corrugated boxes in a variety of sizes and styles at special prices! Whenever you need boxes for moving, shipping or storage, choose 8NET Inc. as your first choice.
* Please check our Terminology page for additional information.
* For delivery policies, please check our Terms of Sale
Use code AD1019 when placing order.
Offer ends 12/31/2019.
Model #
Inside Dim.
Description
1 Bundle
1 Skid
2 Skid
Quantity
(Box)
L x W x H
Qty
Price Per Box
Qty
Price Per Box
Qty
Price Per Box
CB040-040040E3S
4 x 4 x 4"
32 ECT S/W RSC
25
$ .19
3,000
$ .18
6,000
$ .17
CB040-040160T3S
4 x 4 x 16"
200 LB S/W RSC
25
.53
1,000
.48
2,000
.45
CB040-040240T3S
4 x 4 x 24"
200 LB S/W RSC
25
.75
625
.68
1,250
.62
CB040-040280T3S
4 x 4 x 28"
200 LB S/W RSC
25
.82
500
.73
1,000
.69
CB040-040360T3S
4 x 4 x 36"
200 LB S/W RSC
25
1.02
500
.95
1,000
.89
CB040-040480E3S
4 x 4 x 48"
32 ECT S/W RSC
10
1.35
600
1.25
1,200
1.15
CB040-040600T3S
4 x 4 x 60"
200 LB S/W RSC
25
1.65
500
1.55
1,000
1.45
CB050-050050E3S
5 x 5 x 5"
32 ECT S/W RSC
25
.25
2,000
.23
4,000
.21
CB050-050500T3S
5 x 5 x 50"
200 LB S/W RSC
25
1.68
400
1.58
800
1.52
CB050-050760T3S5PF
5 x 5 x 76"- 5PF
200 LB S/W 5PF
25
1.98
500
1.83
1,000
1.72
CB060-040040E3S
6 x 4 x 4"
32 ECT S/W RSC
25
.22
2,500
.20
5,000
.17
CB060-060040E3S
6 x 6 x 4"
32 ECT S/W RSC
25
.26
1,500
.24
3,000
.23
CB060-060060E3S
6 x 6 x 6"
32 ECT S/W RSC
25
.28
1,500
.26
3,000
.24
CB060-060360E3S
6 x 6 x 36"
32 ECT S/W RSC
25
1.18
500
1.16
1,000
1.02
CB060-060480T3S
6 x 6 x 48"
200 LB S/W RSC
25
1.69
500
1.59
1,000
1.46
CB060-060600T3S
6 x 6 x 60"
200 LB S/W RSC
15
2.30
480
2.10
960
1.85
CB060-060720T3S
6 x 6 x 72"
200 LB S/W RSC
15
2.85
480
2.50
960
2.20
CB070-040040E3S
7 x 4 x 4"
32 ECT S/W RSC
25
.28
2,500
.26
5,000
.24
CB070-050050E3S
7 x 5 x 5"
32 ECT S/W RSC
25
.29
1,500
.27
3,000
.25
CB070-070030E3S
7 x 7 x 3"
32 ECT S/W RSC
25
.31
1,500
.29
3,000
.27
CB070-070050E3S
7 x 7 x 5"
32 ECT S/W RSC
25
.34
1,500
.32
3,000
.30
CB070-070070E3S
7 x 7 x 7"
32 ECT S/W RSC
25
.35
1,125
.33
2,250
.31
CB070-070790E4S
7 x 7 x 79"
44 ECT S/W RSC
15
3.95
300
3.60
600
3.30
CB080-040040E3S
8 x 4 x 4"
32 ECT S/W RSC
25
.23
1,875
.21
3,750
.19
CB080-050040E3S
8 x 5 x 4"
32 ECT S/W RSC
25
.38
1,875
.33
3,750
.29
CB080-060040E3S
8 x 6 x 4"
32 ECT S/W RSC
25
.26
1,500
.23
3,000
.21
CB080-060060E3S
8 x 6 x 6"
32 ECT S/W RSC
25
.35
1,500
.33
3,000
.27
CB080-080040E3S
8 x 8 x 4"
32 ECT S/W RSC
25
.41
1,125
.37
2,250
.33
CB080-080060E3S
8 x 8 x 6"
32 ECT S/W RSC
25
.44
1,125
.40
2,250
.34
CB080-080080E3S
8 x 8 x 8"
32 ECT S/W RSC
25
.49
1,125
.43
2,250
.36
CB090-040030E3S
9 x 4 x 3"
32 ECT S/W RSC
25
.26
1,800
.24
3,600
.21
CB090-040040E3S
9 x 4 x 4"
32 ECT S/W RSC
25
.27
1,800
.25
3,600
.22
CB090-050050E3S
9 x 5 x 5"
32 ECT S/W RSC
25
.34
1,500
.30
3,000
.27
CB090-060030E3S
9 x 6 x 3"
32 ECT S/W RSC
25
.33
1,500
.29
3,000
.26
CB090-060040E3S
9 x 6 x 4"
32 ECT S/W RSC
25
.34
1,500
.30
3,000
.27
CB090-060050E3S
9 x 6 x 5"
32 ECT S/W RSC
25
.35
1,125
.31
2,250
.28
CB090-060060E3S
9 x 6 x 6"
32 ECT S/W RSC
25
.36
1,350
.32
2,700
.29
CB090-070040E3S
9 x 7 x 4"
32 ECT S/W RSC
25
.35
1,250
.31
2,500
.28
CB090-070050E3S
9 x 7 x 5"
32 ECT S/W RSC
25
.36
1,125
.33
2,250
.30
CB090-070070E3S
9 x 7 x 7"
32 ECT S/W RSC
25
.44
1,125
.40
2,250
.35
CB090-080040E3S
9 x 8 x 4"
32 ECT S/W RSC
25
.43
1,125
.39
2,250
.34
CB090-080060E3S
9 x 8 x 6"
32 ECT S/W RSC
25
.45
750
.42
1,500
.38
CB090-080080E3S
9 x 8 x 8"
32 ECT S/W RSC
25
.48
750
.45
1,500
.41
CB090-090040E3S
9 x 9 x 4"
32 ECT S/W RSC
25
.44
750
.41
1,500
.37
CB090-090050E3S
9 x 9 x 5"
32 ECT S/W RSC
25
.46
750
.43
1,500
.41
CB090-090060E3S
9 x 9 x 6"
32 ECT S/W RSC
25
.47
1,125
.44
2,250
.39
CB090-090080E3S
9 x 9 x 8"
32 ECT S/W RSC
25
.48
1,350
.45
2,700
.40
CB090-090090E3S
9 x 9 x 9"
32 ECT S/W RSC
25
.49
1,350
.47
2,700
.43
CB100-050050E3S
10 x 5 x 5"
32 ECT S/W RSC
25
.32
1,500
.29
3,000
.27
CB100-060040E3S
10 x 6 x 4"
32 ECT S/W RSC
25
.34
1,500
.31
3,000
.29
CB100-080040E3S
10 x 8 x 4"
32 ECT S/W RSC
25
.37
1,125
.35
2,250
.31
CB100-080060E3S
10 x 8 x 6"
32 ECT S/W RSC
25
.43
750
.39
1,500
.35
CB100-090080E3S
10 x 9 x 8"
32 ECT S/W RSC
25
.54
750
.50
1,500
.46
CB100-100030E3S
10 x 10 x 3"
32 ECT S/W RSC
25
.44
750
.41
1,500
.36
CB100-100040E3S
10 x 10 x 4"
32 ECT S/W RSC
25
.45
750
.42
1,500
.37
CB100-100050E3S
10 x 10 x 5"
32 ECT S/W RSC
25
.46
600
.43
1,200
.38
CB100-100080E3S
10 x 10 x 8"
32 ECT S/W RSC
25
.55
750
.49
1,500
.47
CB100-100100E3S
10 x 10 x 10"
32 ECT S/W RSC
25
.56
750
.52
1,500
.48
CB110-110110E3S
11 x 11 x 11"
32 ECT S/W RSC
25
.72
500
.64
1,000
.61
CB112-087030E3S
11 1/4 x 8 3/4 x 3"
32 ECT S/W RSC
25
.42
1,000
.37
2,000
.33
CB120-040040E3S
12 x 4 x 4"
32 ECT S/W RSC
25
.30
1,500
.27
3,000
.25
CB120-060040E3S
12 x 6 x 4"
32 ECT S/W RSC
25
.34
1,000
.32
2,000
.29
CB120-080040E3S
12 x 8 x 4"
32 ECT S/W RSC
25
.46
1,000
.42
2,000
.37
CB120-080060E3S
12 x 8 x 6"
32 ECT S/W RSC
25
.47
750
.43
1,500
.38
CB120-080080E3S
12 x 8 x 8"
32 ECT S/W RSC
25
.50
750
.48
1,500
.44
CB120-100040E3S
12 x 10 x 4"
32 ECT S/W RSC
25
.50
750
.45
1,500
.41
CB120-100060E3S
12 x 10 x 6"
32 ECT S/W RSC
25
.58
500
.52
1,000
.48
CB120-100080E3S
12 x 10 x 8"
32 ECT S/W RSC
25
.61
750
.57
1,500
.52
CB120-100100E3S
12 x 10 x 10"
32 ECT S/W RSC
25
.63
500
.59
1,000
.57
CB120-120100E3S
12 x 12 x 10"
32 ECT S/W RSC
25
.72
500
.67
1,000
.64
CB120-120120E3S
12 x 12 x 12"
32 ECT S/W RSC
25
.73
500
.68
1,000
.65
CB130-070070E3S
13 x 7 x 7"
32 ECT S/W RSC
25
.46
750
.42
1,500
.39
CB130-100040E3S
13 x 10 x 4"
32 ECT S/W RSC
25
.55
750
.46
1,500
.43
CB130-130130T3S
13 x 13 x 13"
200 LB S/W RSC
25
1.13
500
1.07
1,000
1.02
CB140-060040E3S
14 x 6 x 4"
32 ECT S/W RSC
25
.42
1,250
.37
2,500
.35
CB140-060060E3S
14 x 6 x 6"
32 ECT S/W RSC
25
.45
1,000
.40
2,000
.38
CB140-080060E3S
14 x 8 x 6"
32 ECT S/W RSC
25
.55
750
.49
1,500
.46
CB140-090090E3S
14 x 9 x 9"
32 ECT S/W RSC
25
.62
500
.58
1,000
.54
CB140-100040E3S
14 x 10 x 4"
32 ECT S/W RSC
25
.55
750
.49
1,500
.47
CB140-100080E3S
14 x 10 x 8"
32 ECT S/W RSC
25
.63
750
.60
1,500
.55
CB140-120100E3S
14 x 12 x 10"
32 ECT S/W RSC
25
.83
500
.77
1,000
.70
CB140-120120E3S
14 x 12 x 12"
32 ECT S/W RSC
25
.95
500
.85
1,000
.81
CB140-140040E3S
14 x 14 x 4"
32 ECT S/W RSC
25
.78
500
.73
1,000
.66
CB140-140060E3S
14 x 14 x 6"
32 ECT S/W RSC
25
.82
500
.75
1,000
.68
CB140-140100E3S
14 x 14 x 10"
32 ECT S/W RSC
25
.99
500
.93
1,000
.83
CB140-140120E3S
14 x 14 x 12"
32 ECT S/W RSC
25
1.10
500
1.01
1,000
.94
CB150-150100E3S
15 x 15 x 10"
32 ECT S/W RSC
25
1.20
500
1.10
1,000
.99
CB150-150150E3S
15 x 15 x 15"
32 ECT S/W RSC
25
1.26
500
1.22
1,000
1.18
CB160-100100E3S
16 x 10 x 10"
32 ECT S/W RSC
25
.87
500
.78
1,000
.72
CB160-120080E3S
16 x 12 x 8"
32 ECT S/W RSC
25
.79
500
.72
1,000
.66
CB160-120090E3S
16 x 12 x 9"
32 ECT S/W RSC
25
.91
500
.87
1,000
.76
CB160-140100E3S
16 x 14 x 10"
32 ECT S/W RSC
25
1.21
250
1.05
500
.95
CB160-160080E3S
16 x 16 x 8"
32 ECT S/W RSC
25
1.08
250
1.03
500
.95
CB160-160160E3S
16 x 16 x 16"
32 ECT S/W RSC
25
1.41
250
1.35
500
1.28
CB170-130050E3S
17 x 13 x 5"
32 ECT S/W RSC
25
.93
300
.85
600
.81
CB170-130130T3S
17 x 13 x 13"
200 LB S/W RSC
25
1.42
250
1.31
500
1.15
CB170-140140T3S
17 x 14 x 14"
200 LB S/W RSC
25
1.63
250
1.51
500
1.41
CB170-170170T3S
17 x 17 x 17"
200 LB S/W RSC
25
1.95
250
1.85
500
1.73
CB180-100080E3S
18 x 10 x 8"
32 ECT S/W RSC
25
.85
500
.77
1,000
.71
CB180-140060E3S
18 x 14 x 6"
32 ECT S/W RSC
25
.98
375
.88
750
.82
CB180-140080E3S
18 x 14 x 8"
32 ECT S/W RSC
25
1.13
250
1.03
500
.96
CB180-140100E3S
18 x 14 x 10"
32 ECT S/W RSC
25
1.15
250
1.05
500
.98
CB180-150080E3S
18 x 15 x 8"
32 ECT S/W RSC
25
1.10
250
.95
500
.68
CB180-160040E3S
18 x 16 x 4"
32 ECT S/W RSC
25
1.15
250
1.05
500
.95
CB180-160080E3S
18 x 16 x 8"
32 ECT S/W RSC
25
1.35
250
1.24
500
1.14
CB180-160100E3S
18 x 16 x 10"
32 ECT S/W RSC
25
1.38
250
1.25
500
1.15
CB180-160140E3S
18 x 16 x 14"
32 ECT S/W RSC
25
1.53
250
1.45
500
1.38
CB180-180060E3S
18 x 18 x 6"
32 ECT S/W RSC
25
1.25
250
1.15
500
1.05
CB180-180080E3S
18 x 18 x 8"
32 ECT S/W RSC
25
1.38
250
1.25
500
1.18
CB180-180180E3S
18 x 18 x 18"
32 ECT S/W RSC
20
1.72
120
1.65
240
1.55
CB180-180180T3S
18 x 18 x 18"
200 LB S/W RSC
20
1.99
120
1.88
240
1.75
CB190-190190T3S
19 x 19 x 19"
200 LB S/W RSC
10
2.50
120
2.35
240
2.15
CB200-100040E3S
20 x 10 x 4"
32 ECT S/W RSC
25
.80
375
.72
750
.66
CB200-100080E3S
20 x 10 x 8"
32 ECT S/W RSC
25
.92
375
.82
750
.76
CB200-140080E3S
20 x 14 x 8"
32 ECT S/W RSC
25
1.15
250
1.10
500
.97
CB200-140120E3S
20 x 14 x 12"
32 ECT S/W RSC
25
1.31
250
1.25
500
1.16
CB200-140140E3S
20 x 14 x 14"
32 ECT S/W RSC
25
1.45
250
1.30
500
1.25
CB200-160100E3S
20 x 16 x 10"
32 ECT S/W RSC
25
1.45
250
1.35
500
1.23
CB200-180120E3S
20 x 18 x 12"
32 ECT S/W RSC
20
1.80
120
1.70
240
1.60
CB200-180160T3S
20 x 18 x 16"
200 LB S/W RSC
15
2.30
120
2.20
240
2.05
CB200-180180E3S
20 x 18 x 18"
32 ECT S/W RSC
25
2.15
125
1.99
250
1.88
CB200-180180T3S
20 x 18 x 18"
200 LB S/W RSC
15
2.45
120
2.35
240
2.20
CB200-200080E3S
20 x 20 x 8"
32 ECT S/W RSC
25
1.57
250
1.50
500
1.39
CB200-200120E3S
20 x 20 x 12"
32 ECT S/W RSC
15
1.78
120
1.69
240
1.63
CB214-156095E3S
21 3/8 x 15-5/8 x 9 1/2"
32 ECT S/W RSC
20
1.55
240
1.42
480
1.31
CB220-140120E3S
22 x 14 x 12"
32 ECT S/W RSC
20
1.30
240
1.22
480
1.16
CB220-180040E3S
22 x 18 x 4"
32 ECT S/W RSC
20
1.45
240
1.31
480
1.23
CB220-180060E3S
22 x 18 x 6"
32 ECT S/W RSC
20
1.53
240
1.42
480
1.35
CB220-180180E3S
22 x 18 x 18"
32 ECT S/W RSC
15
2.20
120
2.05
240
1.95
CB220-220120E3S
22 x 22 x 12"
32 ECT S/W RSC
15
2.25
120
2.10
240
1.98
CB240-100060E3S
24 x 10 x 6"
32 ECT S/W RSC
25
.95
375
.87
750
.81
CB240-100100E3S
24 x 10 x 10"
32 ECT S/W RSC
25
1.15
250
1.10
500
.99
CB240-120060E3S
24 x 12 x 6"
32 ECT S/W RSC
25
1.10
375
.99
750
.94
CB240-120080E3S
24 x 12 x 8"
32 ECT S/W RSC
25
1.18
250
1.07
500
.99
CB240-120100E3S
24 x 12 x 10"
32 ECT S/W RSC
25
1.21
250
1.16
500
1.10
CB240-140040E3S
24 x 14 x 4"
32 ECT S/W RSC
25
1.10
250
1.03
500
.97
CB240-140060E3S
24 x 14 x 6"
32 ECT S/W RSC
25
1.20
250
1.10
500
1.03
CB240-140120T3S
24 x 14 x 12"
200 LB S/W RSC
25
1.88
250
1.75
500
1.65
CB240-170120E3S
24 x 17 x 12
32 ECT S/W RSC
25
1.51
250
1.35
500
1.21
CB240-200100E3S
24 x 20 x 10"
32 ECT S/W RSC
10
1.95
120
1.85
240
1.73
CB240-200180T3S
24 x 20 x 18"
200 LB S/W RSC
10
2.95
120
2.80
240
2.70
CB240-200200T3S
24 x 20 x 20"
200 LB S/W RSC
10
3.05
120
2.85
240
2.75
CB240-240060E3S
24 x 24 x 6"
32 ECT S/W RSC
10
2.18
120
2.08
240
1.97
CB240-240080E3S
24 x 24 x 8"
32 ECT S/W RSC
10
2.25
120
2.15
240
1.98
CB240-240100E3S
24 x 24 x 10"
32 ECT S/W RSC
10
2.27
120
2.17
240
2.05
CB240-240120E3S
24 x 24 x 12"
32 ECT S/W RSC
10
2.32
120
2.22
240
2.15
CB240-240180E3S
24 x 24 x 18"
32 ECT S/W RSC
10
3.10
120
2.95
240
2.70
CB240-240180T3S
24 x 24 x 18"
200 LB S/W RSC
10
3.45
120
3.15
240
2.99
CB320-100100T3S
32 x 10 x 10"
200 LB S/W RSC
25
1.70
300
1.55
600
1.40
CB390-240280T3S
39 x 24 x 28"
200 LB S/W RSC
5
5.30
130
4.50
260
4.20
CBP180-720E3S
18 x 72"
32 ECT S/W PAD
50
.95
600
.83
1,200
.78
CBP190-200E3S
19 x 20"
32 ECT S/W PAD
50
.52
1,000
.46
2,000
.44
CBP277-210T3S-U
27 3/4 x 21"
200 LB C Flute
50
.58
1,200
.49
2,400
.37
CBP360-480E3S
36 x 48"
32 ECT S/W PAD
50
1.30
250
1.15
500
.97
CBP375-414T3S-U
37 1/2 x 41 3/8"
200 LB E Flute S/W
50
.85
550
.73
1,100
.68
CBP400-480E3S
40 x 48"
32 ECT S/W PAD
50
1.35
300
1.20
600
.99
CBP480-720E2S
48 x 72"
29 ECT S/W PAD
50
2.50
300
2.10
600
1.90
CBP715-483T3D
71 1/2 x 48 1/4"
200 LB D/W PAD
50
5.10
175
4.30
350
3.90