Carton Sealing Tape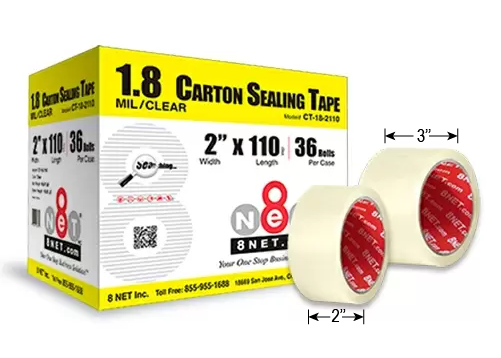 Best-selling carton sealing tape, 1.8 / 2.0 MIL thickness available.
Strong solvent acrylic adhesive sticks to any surface.
Strong, reliable and stands up to all weather conditions.
Meets UPS and US postal regulations.

Related Product:

Tape Dispenser
Buy

5

cases get

3

cases free

Promo code:

PHCT2023

Limited quantity available, while supplies last.
This discount cannot be combined with other promotions.
Tapes case & skid lot
SKID LOTS – SAVE UP TO

50%

Model #
Description
Mil
Size
Color
Rolls/
Case
Cases/
Skid
Price Per Case
Redeem
for Free
(Case)
Order Qty.
(Case)
1
10
20
40
Skid
Lot

Or Stacking Discount ≥

$100

$250

$500

$1,000

CT-18-2110

Hand

Length

Economy

1.8
2" x 110 yds
Clear
36
105
$ 45.00
$ 41.40
$ 37.80
$ 31.68
$ 24.48
2000
CT-18-2110-T

Hand

Length

Economy

1.8
2" x 110 yds
Tan
36
105
45.00
41.40
37.80
31.68
24.48
2000
CT-18-3110

Hand

Length

Economy

1.8
3" x 110 yds
Clear
24
105
45.12
41.52
37.92
31.68
27.60
2000
CT-20-2110

Hand

Length

Industrial

2.0
2" x 110 yds
Clear
36
105
54.00
48.60
43.20
37.80
34.20
2500
CT-20-3110

Hand

Length

Industrial

2.0
3" x 110 yds
Clear
24
105
50.40
45.60
40.80
36.00
30.00
2500
CT-20-3110-T

Hand

Length

Industrial

2.0
3" x 110 yds
Tan
24
105
50.40
45.60
40.80
36.00
36.00
2500
CT-26-2110

Hand

Length

Heavy Duty

2.6
2" x 110 yds
Clear
36
84
75.60
68.40
54.00
54.00
46.80
3000
CT-26-3110

Hand

Length

Heavy Duty

2.6
3" x 110 yds
Clear
24
84
76.80
69.60
55.20
55.20
46.80
3000