Carton Sealing Tape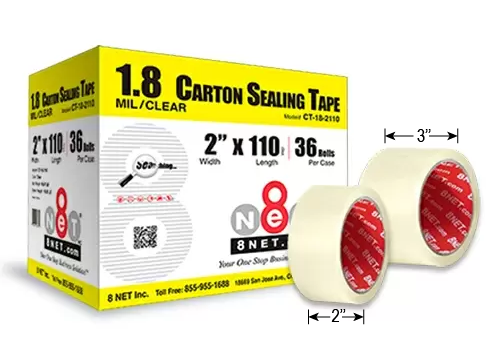 Best-selling carton sealing tape, 1.8 / 2.0 MIL thickness available.
Strong solvent acrylic adhesive sticks to any surface.
Strong, reliable and stands up to all weather conditions.
Meets UPS and US postal regulations.

Related Product:

Tape Dispenser

Promo code:

CTSEP22

Purchase for every

5 cases

get

3 cases

of the same item(s) free. Limited quantity available, while supplies last.
This discount cannot be combined with other promotions.
1.8 MIL - Economy
Model #
Size
Color
Roll/
Case
Price Per Case
Redeem
for Free
(Case)
Order Qty.
(Case)
CT-18-2110
2" x 110 yds
Clear
36
$ 54.00
1750
CT-18-3110
3" x 110 yds
Clear
24
54.00
1750
2.0 MIL - Industrial
Model #
Size
Color
Roll/
Case
Price Per Case
Redeem
for Free
(Case)
Order Qty.
(Case)
CT-20-2110
2" x 110 yds
Clear
36
$ 59.04
2000
CT-20-3110
3" x 110 yds
Clear
24
59.04
2000
CT-20-3110-T
3" x 110 yds
Tan
24
59.04
2000
Machine Length
Model #
MIL
Size
Color
Rolls/
Case
Price Per Case
Redeem
for Free
(Case)
Order Qty.
(Case)
CT-18-31000
1.8mil
3" x 1000 yds
Clear
4
$ 66.00
2000