Bubble Roll
Free Same Day Delivery* available for qualified orders! Get Big Saving and Earn Rolling Reward Points for Orders Over $250.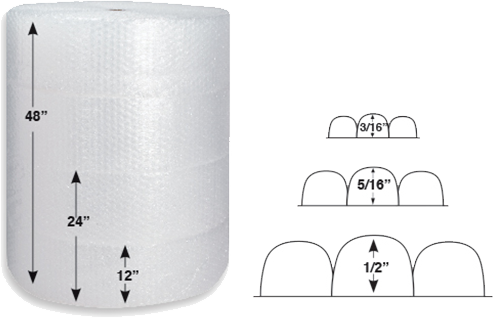 Perfect for customized cushioning and filling empty space in boxes for optimum protection.

Provides outstanding defense for moving and shipping all kinds of delicate/fragile items.

Perforated every 12" for easy tearing.

Three bubble sizes available.
Model #
Bubble Size
Description
Roll Size
Rolls
/Bndl
Price Per Roll
Redeem
for Free
(Case)
Order Qty.
(Bundle)
1 Bndl
3 Bndl
5 Bndl
10 Bndl
W x L

Or Combined Order ≥

$100

$250

$500

$1,000

BR1L-12300
3/16"
Light Duty
12" x 300'
4
$ 16.00
$ 13.00
$ 13.00
$ 13.00
3000
BR1L-12750
3/16"
Light Duty
12" x 750'
4
30.00
28.00
26.00
23.00
3500
BR1L-24300
3/16"
Light Duty
24" x 300'
2
32.00
26.00
26.00
26.00
3000
BR1L-24750
3/16"
Light Duty
24" x 750'
2
60.00
56.00
52.00
46.00
3500
BR1L-48750
3/16"
Light Duty
48" x 750'
1
120.00
108.00
100.00
92.00
3500
BR2M-12375
5/16"
Medium Duty
12" x 375'
4
25.00
23.50
22.00
20.00
3000
BR2M-24375
5/16"
Medium Duty
24" x 375'
2
50.00
47.00
44.00
40.00
3000
BR2M-48375
5/16"
Medium Duty
48" x 375'
1
100.00
94.00
88.00
80.00
3000
BR3H-12250
1/2"
Heavy Duty
12" x 250'
4
15.00
14.00
13.00
12.00
2000
BR3H-24250
1/2"
Heavy Duty
24" x 250'
2
30.00
28.00
26.00
24.00
2000
BR3H-48250
1/2"
Heavy Duty
48" x 250'
1
60.00
56.00
52.00
48.00
2000