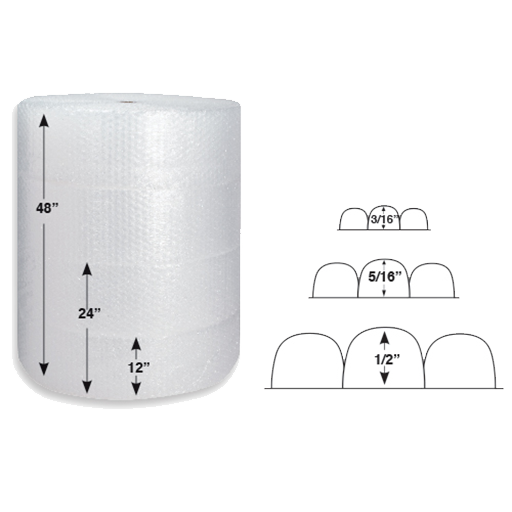 Bubble Roll
Description: Bubble Roll 100% Recyclable, Clean, Lightweight cushioning. Cross-perforated every 12" for easy tear-off.
Best used in: Shipping of delicate/fragile items. Bubble rolls allow for customized cushioning and filling of empty space in boxes for optimum protection.
Same Day Delivery within a 10-mile radius. Big Saving and Earn Rolling Reward Points for Orders Over $250.
* Please check our Terms of Sale page for additional information.
Model #
Description
Bubble Size
Roll Size
Roll/
Bndl
Price Per Roll
Redeem with
Reward Points
Qty
(Bundle)
W x L
1 Bndl
3 Bndl
5 Bndl
10 Bndl
≥ $100
≥ $250
≥ $500
≥ $1000
BR1L-12300
Light Duty
3/16"
12" x 300'
4
$ 10.90
$ 9.80
$ 8.80
$ 7.90
700
BR1L-12750
Light Duty
3/16"
12" x 750'
4
24.70
21.50
20.30
18.80
1500
BR1L-24300
Light Duty
3/16"
24" x 300'
2
21.80
19.60
17.60
15.80
700
BR1L-24750
Light Duty
3/16"
24" x 750'
2
49.40
43.00
40.60
37.60
1500
BR1L-48750
Light Duty
3/16"
48" x 750'
1
98.80
86.00
81.20
75.20
1500
BR2M-12375
Medium Duty
5/16"
12" x 375'
4
23.80
21.30
19.90
18.30
1500
BR2M-24375
Medium Duty
5/16"
24" x 375'
2
47.60
42.60
39.80
36.60
1500
BR2M-48188
Medium Duty
5/16"
48" x 188'
1
55.00
47.00
45.00
43.00
-
BR2M-48375
Medium Duty
5/16"
48" x 375'
1
110.00
93.00
90.00
86.00
-
BR3H-12250
Heavy Duty
1/2"
12" x 250'
4
13.30
11.90
10.80
9.90
1000
BR3H-24250
Heavy Duty
1/2"
24" x 250'
2
26.60
23.80
21.60
19.80
1000
BR3H-48250
Heavy Duty
1/2"
48" x 250'
1
53.20
47.60
43.20
39.60
1000