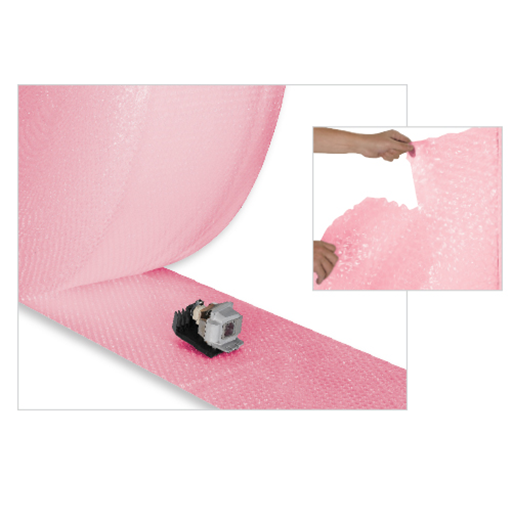 Anti-Static Bubble Roll
Description: Protects against static discharge for sensitive products. Cross-perforated every 12" for easy tear-off.
Best used in: Shipping and protecting sensitive items such as electronic components from static electricity discharge. 
Requires a 2-3 day delivery lead time
Same Day Delivery within a 10-mile radius. Big Saving and Free Gifts for Orders Over $150.
* Please check our Terminology page for additional information.
Model #
Bubble Size
Roll Size
Roll/
Bndl
Price Per Roll
Promo Price
Any Roll Qty
Qty
(Bundle)
W x L
1 Bndl
3 Bndl
5+ Bndl
BR1LA-12300
3/16"
12" x 300'
4
$ 20.00
$ 18.00
$ 15.80
$ 15.80
BR1LA-24300
3/16"
24" x 300'
2
40.00
36.00
31.50
31.50
BR1LA-48300
3/16"
48" x 300'
1
80.00
72.00
64.00
64.00
BR2MA-12375
5/16"
12" x 375'
4
46.00
42.00
37.00
37.00
BR2MA-24375
5/16"
24" x 375'
2
92.00
84.00
74.00
74.00
BR3HA-12250
1/2"
12" x 250'
4
26.00
23.00
20.00
20.00
BR3HA-24250
1/2"
24" x 250'
2
52.00
46.00
40.00
40.00
BR3HA-48250
1/2"
48" x 250'
1
104.00
92.00
80.00
80.00