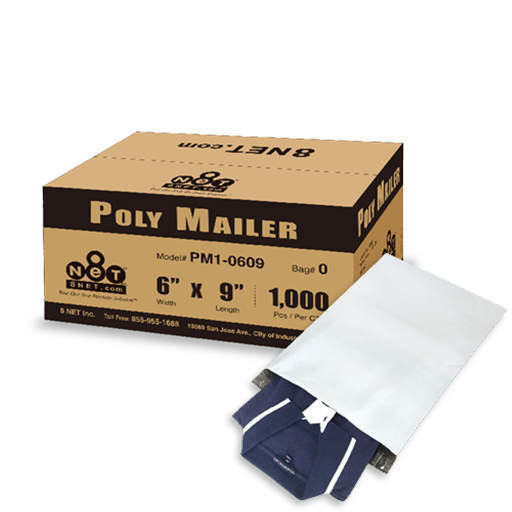 Poly Mailers
Description: Strong water/tear-resistant polyethylene mailers. The polyethylene mailers are self-sealing, eliminating the need for tape. 
Best used in: Shipping out t-shirts, clothing garments, socks, fabrics or any similar type of item. 
Same Day Delivery within a 10-mile radius. Big Saving and Free Gifts for Orders Over $150.
* Please check our Terms of Sale page for additional information.
Model #
Bag#
Inside
Qty/
Case
Cases/
Skid
Price Per Case
Promo Price
Any Case Qty
Qty
(Case)
W x L
1 Case
3 Cases
5+ Cases
PM1-0609
# 1
6 x 9"
1000
160
$ 28.00
$ 25.00
$ 21.00
$ 20.00
PM2-0710
# 2
7 1/2 x 10 1/2"
1000
160
38.00
33.00
29.00
27.00
PM3-0912
# 3
9 x 12"
1000
120
49.00
43.00
39.00
36.00
PM4-1013
# 4
10 x 13"
1000
120
59.00
53.00
46.00
43.00
PM5-1215
# 5
12 x 15 1/2"
500
120
41.00
35.00
31.00
30.00
PM7-1419
# 7
14 1/2 x 19"
500
90
60.00
57.00
54.00
50.00
PM8-1924
# 8
19 x 24"
300
90
59.00
55.00
49.00
47.00
PM9-2424
# 9
24 x 24"
300
90
75.00
65.00
59.00
56.00