Poly Bubble Mailers- Self-Seal
Free Same Day Delivery* available for qualified orders! Get Big Saving and Earn Rolling Reward Points for Orders Over $250.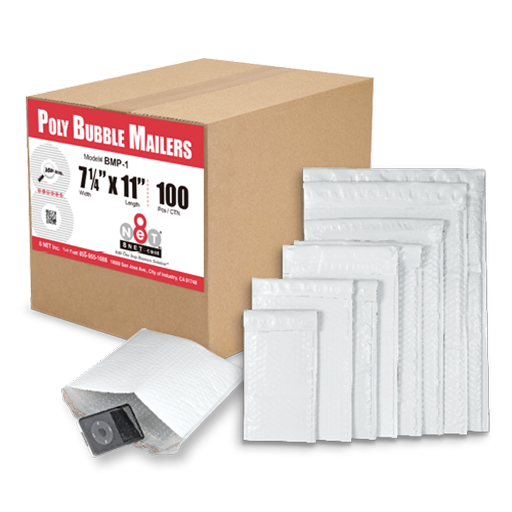 Made with multilayered polyethylene sheets. Water-resistant and tear-proof.
Interior built with 1/8" bubble lined wall construction for extra protection.
Smooth print surface is ideal for advertising, promotional mailings, and branding.
Convenient, lightweight, and will help to save on shipping costs.
Poly Bubble Mailers- Self-Seal
Model #
Bag#
Inside
Qty/
Case
Cases/
Skid
Price Per Case
Redeem
for Free
(Case)
Order Qty.
(Case)
1
10
20
Skid

Or Stacking Discount ≥

W x L

$100

$250

$500

$1,000

BMP-000
# 000
4" x 7"
500
36
$ 42
$ 40
$ 38
$ 34
1500
BMP-00
# 00
5" x 9"
250
40
31
29
27
25
1250
BMP-0
# 0
6" x 9"
250
32
37
35
33
30
1250
BMP-1
# 1
7.25" x 11"
100
40
20
19
18
16
750
BMP-2
# 2
8.5" x 11"
100
48
24
22
21
19
1250
BMP-3
# 3
8.5" x 13.5"
100
30
30
28
27
25
1250
BMP-4
# 4
9.5" x 13.5"
100
36
32
30
28
26
1250
BMP-5
# 5
10.5" x 15"
100
30
40
38
36
33
1250
BMP-6
# 6
12.5" x 18"
50
36
27
25
24
22
1000
BMP-7
# 7
14.25" x 19"
50
36
30
28
27
25
1000