Kraft Bubble Mailers - Self-Seal
Free Same Day Delivery* available for qualified orders! Get Big Saving and Earn Rolling Reward Points for Orders Over $250.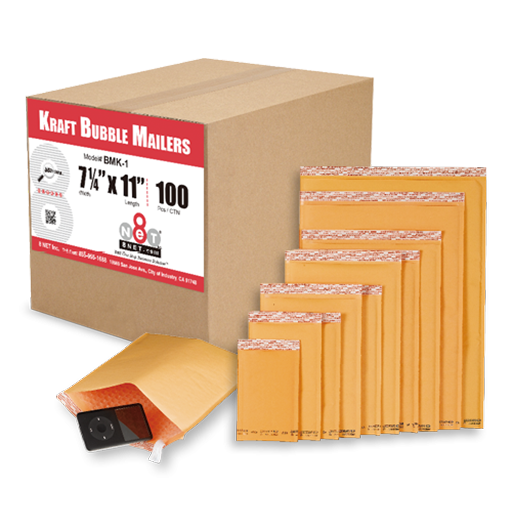 Surface made from durable kraft paper.
Interior built with advanced low-density polyethylene 1/8" bubble to provide extra protection during transit.
Strong self-sealing adhesive strip. Simply peel and fold over to seal each package safely and securely.
Cost-effective and efficient way to ship your products.
Kraft Bubble Mailers - Self-Seal
Model #
Bag#
Inside
Qty/
Case
Cases/
Skid
Price Per Case
Redeem
for Free
(Case)
Order Qty.
(Case)
1
10
20
Skid

Or Combined Order ≥

W x L

$100

$250

$500

$1,000

BMK-000
# 000
4" x 7"
500
25
$ 38
$ 36
$ 34
$ 32
1000
BMK-00
# 00
5" x 9"
250
28
29
28
27
24
750
BMK-0
# 0
6" x 9"
250
25
33
33
33
29
1000
BMK-1
# 1
7.25" x 11.5"
100
48
20
20
20
16
750
BMK-2
# 2
8.5" x 11"
100
42
21
20
19
18
750
BMK-3
# 3
8.5" x 13.5"
100
36
25
24
23
22
750
BMK-4
# 4
9.5" x 13.5"
100
36
28
26
25
23
750
BMK-5
# 5
10.5" x 15"
100
24
$33 Any Qty.
27
1000
BMK-6
# 6
12.5" x 18"
50
36
26
25
24
22
1250
BMK-7
# 7
14.5" x 19"
50
36
28
27
26
24
1250