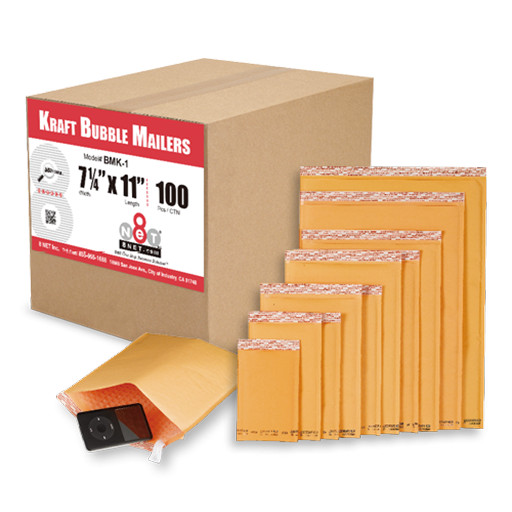 Kraft Bubble Mailers
Description: Top quality kraft paper with advanced low-density polyethylene 3/16" bubble lining.
Best used in: Packaging out small valuable or fragile items that are going to be shipped out. Thick envelope with bubble wrap inside provides adequate protection.
Same Day Delivery within a 10-mile radius. Big Saving and Earn Rolling Reward Points for Orders Over $250.
* Please check our Terms of Sale page for additional information.
Stacking Discounts: The Higher your order subtotal (before tax and freight) is, the greater the Savings! Orders totaling more than $250, $500 and $1,000 will save increasingly more on Each Item. Our Stacking Discounts give you the best option for your packaging needs.
Model #
Bag#
Inside
Qty/
Case
Cases/
Skid
Price Per Case
Free Case with
Reward Points
Order
Qty
(Case)
W x L
1 Case
10 Cases
20 Cases
Skid Lot

≥ $100

≥ $250

≥ $500

≥ $1,000

BMK-000
# 000
4" x 7"
500
24
$ 38.00
$ 31.00
$ 28.00
$ 26.00
700
BMK-00
# 00
5" x 9"
250
28
26.50
22.00
19.80
18.30
500
BMK-0
# 0
6" x 9"
250
24
28.50
23.50
21.30
19.80
500
BMK-1
# 1
7.25" x 11"
100
48
17.00
14.30
13.00
12.00
300
BMK-2
# 2
8.5" x 11"
100
42
20.00
16.80
15.30
14.00
400
BMK-3
# 3
8.5" x 13.5"
100
36
25.00
20.70
18.60
17.50
500
BMK-4
# 4
9.5" x 13.5"
100
36
26.00
21.50
19.50
18.50
500
BMK-5
# 5
10.5" x 15"
100
24
29.00
24.00
21.50
20.30
600
BMK-6
# 6
12.5" x 18"
50
36
21.90
18.00
16.50
15.30
400
BMK-7
# 7
14.5" x 19"
50
36
26.00
22.00
19.90
18.80
500