Kraft Bubble - Self-Seal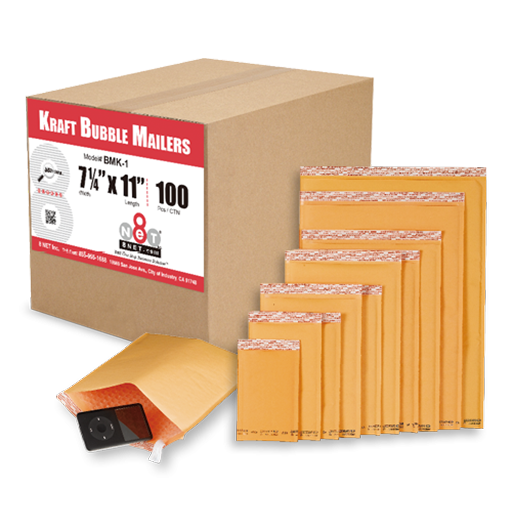 Description: The surface of this kraft bubble envelopes made from premium quality durable kraft paper. Interior built with advanced low-density polyethylene 3/16" bubble to provide extra protection during transit, ensure your package arrives in great condition. The self-seal closure provides a reliable tight seal to secure all enclosure.
Best used in:These light weighted mailer envelopes can be used in various circumstances, such as in office, at home, in shops, schools and everywhere that is need for shipping. You can also use our shipping labels along with the mailers.
Same Day Delivery within a 10-mile radius. Big Saving and Earn Rolling Reward Points for Orders Over $250.
* Please check our Terms of Sale page for additional information.
Stacking Discounts: The Higher your order subtotal (before tax and freight), the greater the Savings!** Orders totaling more than $250, $500 and $1,000 will save increasingly more on Each Item. Our Stacking Discounts give you the best option for your needs.
**Order subtotal must be a MINIMUM of $250, $500, or $1,000 AFTER discount is applied to each item.
Model #
Bag#
Inside
Qty/
Case
Cases/
Skid
Price Per Case


(Combined Order ≥)

Redeem for Free
Order
Qty
(Case)
1
10
20
Skid Lot
W x L

≥ $100

≥ $250

≥ $500

≥ $1,000

BMK-000
# 000
4" x 7"
500
25
$ 33
$ 30
$ 27
$ 25
900
BMK-00
# 00
5" x 9"
250
28
26
24
22
20
800
BMK-0
# 0
6" x 9"
250
25
27
25
23
21
800
BMK-1
# 1
7.25" x 11"
100
48
17
15
14
13
750
BMK-2
# 2
8.5" x 11"
100
42
18
16
15
14
750
BMK-3
# 3
8.5" x 13.5"
100
36
21
19
18
17
750
BMK-4
# 4
9.5" x 13.5"
100
36
26
23
21
19
800
BMK-5
# 5
10.5" x 15"
100
24
27
25
23
21
750
BMK-6
# 6
12.5" x 18"
50
36
21
19
17
16
750
BMK-7
# 7
14.5" x 19"
50
36
26
24
22
20
750