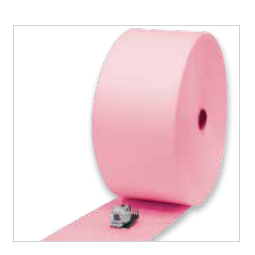 Foam Rolls - Anti-Static
Description: Protects against static discharge for sensitive products. Cross-perforated every 12" for easy tear-off.
Best used in: Protecting electronic components such as mother boards, and processors. The anti static foam rolls protect agaings static electricity. 
* Please check our Terms of Sale page for additional information.
Stacking Discounts: The Higher your order subtotal (before tax and freight), the greater the Savings!** Orders totaling more than $250, $500 and $1,000 will save increasingly more on Each Item. Our Stacking Discounts give you the best option for your needs.
**Order subtotal must be a MINIMUM of $250, $500, or $1,000 AFTER discount is applied to each item.
Model #
Thickness
Roll Size
Roll/
Bndl
Price Per Roll


(Combined Order ≥)

Qty
(Bundle)
1 Bndl
3 Bndls
5+ Bndls
W x L

≥ $100

≥ $250

≥ $500

FR2A-12900
1/16"
12" x 900'
4
$ 41.00
$ 36.00
$ 34.00
FR2A-24900
1/16"
24" x 900'
2
82.00
72.00
68.00
FR2A-48900
1/16"
48" x 900'
1
164.00
144.00
136.00
FR3A-12450
1/8"
12" x 450'
4
41.00
36.00
34.00
FR3A-24450
1/8"
24" x 450'
2
82.00
72.00
68.00
FR3A-48450
1/8"
48" x 450'
1
164.00
144.00
136.00
FR5A-12225
1/4"
12" x 225'
4
41.00
36.00
34.00
FR5A-24225
1/4"
24" x 225'
2
82.00
72.00
68.00
FR5A-48225
1/4"
48" x 225'
1
164.00
144.00
136.00