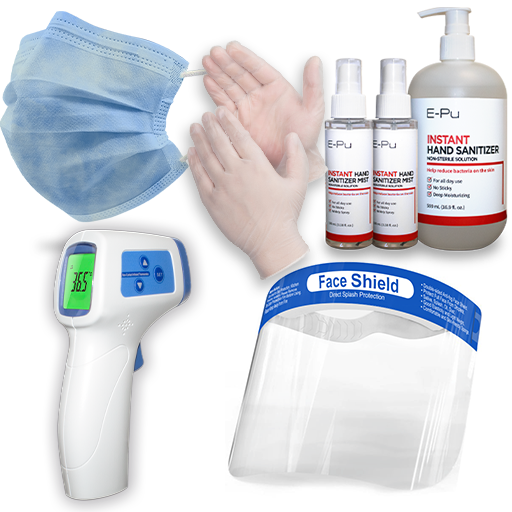 Description: The right personal protective equipment (PPE) is your first line of defence against excessive noise, flying debris, chemical spills, and toxic fluid. Keep yourself protected, whether at home, in the office, or during transit from inhalation of hazardous substances.
Thermometer: Non-contact infrared digital forehead thermometer prevents cross-infection and protects you and your family.
Designed for all ages, adult, infants, and elders
CE,FDA Approved, Accuracy: 0.3°F
Multifunction and widely use
**All alcohol based products are FINAL SALE. NO Returns will be accepted.**
Same Day Delivery within a 10-mile radius. Big Saving and Earn Rolling Reward Points for Orders Over $250.
Stacking Discounts: The Higher your order subtotal (before tax and freight), the greater the Savings!** Orders totaling more than $250, $500 and $1,000 will save increasingly more on Each Item. Our Stacking Discounts give you the best option for your needs.
**Order subtotal must be a MINIMUM of $250, $500, or $1,000 AFTER discount is applied to each item.
Non-Contact Thermometer
Model #
Description
Measurement
Distance
Temperature
Range
Price Each


(Combined Order ≥)

Qty
(Each)
1
2
3
5

≥ $100

≥ $250

≥ $500

≥ $1,000

SG22-DN997

3 Colors Alarm Light

1.2'' to 2''
89.6°F~109.4°F
$ 49
$ 47
$ 45
$ 43
SG22-IR988

2 Colors Alarm Light

1.2'' to 2''
89.6°F~109.4°F
49
47
45
43
3-Ply Disposable
Model #
Description
Qty/
Box
Box/
Case
Price Per Box


(Combined Order ≥)

Order
Qty (Box)
1
10
20
40

≥ $100

≥ $250

≥ $500

≥ $1,000

SG24-01
3-Ply Disposable Earloop Face Mask
50
40
$ 5.80
$ 4.80
$ 4.50
$ 3.88
Face Shield
Model #
Description
Size
Qty/
Box
Box/
Ctn
Price Per Piece
(Combined Order ≥)
Qty
(Piece)

≥ $100

≥ $250

≥ $500

≥ $1,000

1 box
5 boxes
10 boxes
20 boxes
SG22-10
Splash-proof protective Ultra-Light Face Shield
9 x 13''
10
12
$ 2.50
$ 1.99
$ 1.80
Hand Sanitizers
Model #
Description
Country of Origin
Size /
Volumn
Bottles/
Case
Price Per Bottle


(Combined Order ≥)

Qty
(Bottle)
12
24
48
120

≥ $100

≥ $250

≥ $500

≥ $1,000

JHS-3533-B
Gel,FDA Registered,75% Alcohol
United States
3.38 oz.
24
$3.99 any quantity
JHS-EPU-B100
Spray, Non-sterile,75% Alcohol
South Korea
3.38 oz.
60
$3.99 any quantity
JHS-EPU-B500
Gel, Moisturizing, 70% Alcohol
South Korea
16.9 oz.
24
$4.99 any quantity
40 Wipes Pack
Model #
Description
Wipes /
Pack
Pack/
Case
Price Per Pack


(Combined Order ≥)

Redeem for Free
Qty
(Pack)
1
10
20
70

≥ $100

≥ $250

≥ $500

≥ $1,000

JHS-WIPE40P

75% Alcohol Cotton Hand Wipes

40
70
$ 6.50
$ 5.50
$ 4.50
$ 4.20
250
50 Wipes Pack
Model #
Description
Wipes /
Pack
Pack/
Case
Price Per Pack


(Combined Order ≥)

Redeem for Free
Qty
(Pack)
1
6
12
24

≥ $100

≥ $250

≥ $500

≥ $1,000

JHS-WIPE50P
75% Alcohol Cotton Hand Wipes
50
24
$ 7.30
$ 6.20
$ 5.10
$ 4.70
250
100 Wipes Pack
Model #
Description
Wipes /
Can
Can/
Case
Price Per Can


(Combined Order ≥)

Redeem for Free
Qty
(Can)
2
6
12
24

≥ $100

≥ $250

≥ $500

≥ $1,000

JHS-WIPE100C
75% Alcohol Cotton Hand Wipes
100
12
$ 11.50
$ 8.90
$ 7.30
$ 6.80
500
Vinyl Gloves
Model #
Color
Size
Qty/
Box
Box/
Carton
Price Per Box


(Combined Order ≥)

Redeem for Free
Qty
(Box)
1
5
10
20

≥ $100

≥ $250

≥ $500

≥ $1,000

SG01-12C05
Clear
S
100
10
$ 11.80
$ 10.80
$ 10.30
$ 9.80
250
SG01-12C06
Clear
M
100
10
11.80
10.80
10.30
9.80
250
SG01-12C07
Clear
L
100
10
11.80
10.80
10.30
9.80
250
SG01-12C08
Clear
XL
100
10
11.80
10.80
10.30
9.80
250
SG01-14B06
Blue
M
100
10
11.80
10.80
10.30
9.80
250
SG01-14B07
Blue
L
100
10
11.80
10.80
10.30
9.80
250