Description: Coated gloves offer superior extra protection against harsh surfaces and certain chemicals.
Best Used In: These gloves are made to last and protect your hands from serious industrial dangers. 
Same Day Delivery within a 10-mile radius. Big Saving and Free Gifts for Orders Over $150.
Stacking Discounts: The Higher your order subtotal (before tax and freight), the greater the Savings!** Orders totaling more than $250, $500 and $1,000 will save increasingly more on Each Item. Our Stacking Discounts give you the best option for your needs.
**Order subtotal must be a MINIMUM of $250, $500, or $1,000 AFTER discount is applied to each item.
* Please check our Terms of Sale page for additional information.

Nitrile Foam Palm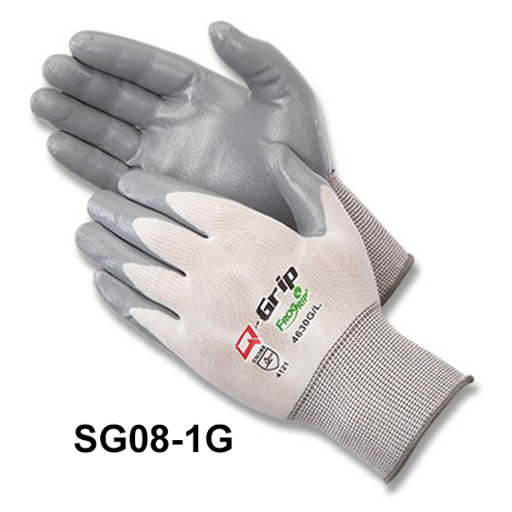 Q-GripTM Nitrile and coated with 15-gauge nylon shell
Size Available: S, M, L, XL
Color Available: Gray
Machine washable
Superior grip and abrasion resistance, applicable for both wet and dry applications
Model #
Description
Color
Size
Pairs/
Pack
Packs/
Carton
Price Per Pair
Redeem with
Reward Points
Qty
(Pair)
3 Pairs
6 Pairs
12 Pairs
24 Pairs

≥ $100

≥ $250

≥ $500

≥ $1,000

SG08-1G05
13 Gauge
Gray
S
12
12
$ 1.29
$ 1.08
$ .94
$ .86
150
SG08-1G06
13 Gauge
Gray
M
12
12
1.29
1.08
.94
.86
300
SG08-1G07
13 Gauge
Gray
L
12
12
1.29
1.08
.94
.86
150
SG08-1G08
13 Gauge
Gray
XL
12
12
1.29
1.08
.94
.86
150
Polyurethane Ultra Thin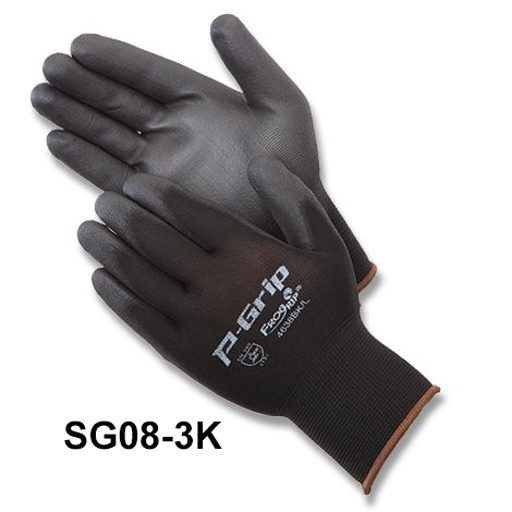 P-GripTM Polyurethane coated with 13-gauge nylon shell glove
Size Available: S, M, L, XL
Color Available: Black
Machine washable
Better abrasion resistance, Micro-foam nitrile and gray PU Palm
Model #
Description
Color
Size
Pairs/
Pack
Packs/
Carton
Price Per Pair
Redeem with
Reward Points
Qty
(Pair)
3 Pairs
6 Pairs
12 Pairs
24 Pairs

≥ $100

≥ $250

≥ $500

≥ $1,000

SG08-3K05
13 Gauge
Black
S
12
12
$ 1.22
$ 1.02
$ .90
$ .82
150
SG08-3K06
13 Gauge
Black
M
12
12
1.22
1.02
.90
.82
150
SG08-3K07
13 Gauge
Black
L
12
12
1.23
1.02
.90
.82
150
Polyurethane High Density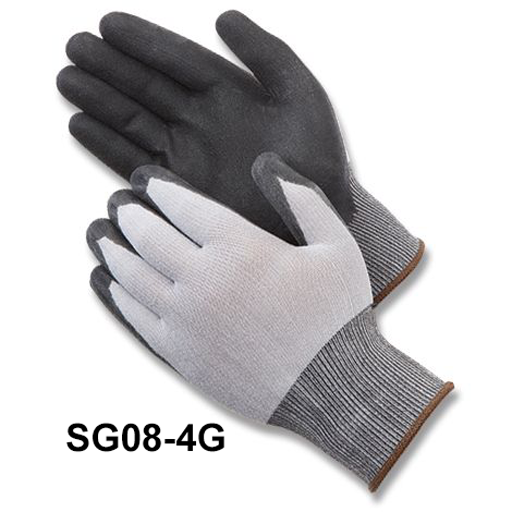 M-GripTM 15-gauge, high-density polyurethane palm coated with nylon shell glove
Size Available: M, L, XL
Color Available: Black/Gray
Machine washable
Cutting edge technology HDPU Polyurethane Coating, superior grip and abrasion resistance, applicable for both wet and dry appications
Considered to be food safe
Model #
Description
Color
Size
Pairs/
Pack
Packs/
Carton
Price Per Pair
Redeem with
Reward Points
Qty
(Pair)
3 Pairs
6 Pairs
12 Pairs
24 Pairs

≥ $100

≥ $250

≥ $500

≥ $1,000

SG08-4G06
15 Gauge
Black/Gray
M
12
12
$ 4.30
$ 3.80
$ 3.40
$ 3.20
300
SG08-4G07
15 Gauge
Black/Gray
L
12
12
4.30
3.80
3.40
3.20
300
SG08-4G08
15 Gauge
Black/Gray
XL
12
12
4.30
3.80
3.40
3.20
300