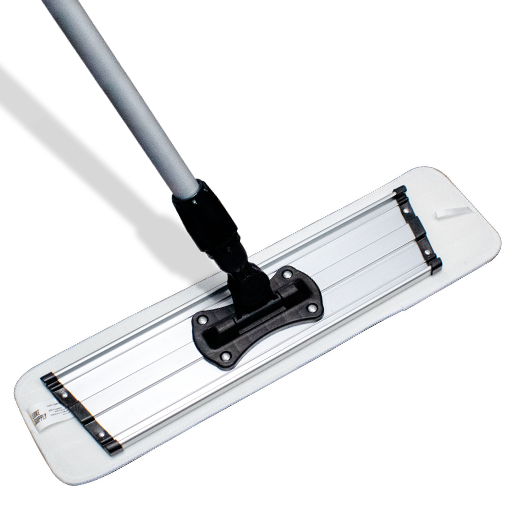 Description: Microfiber pads hold more water than traditional mops for more efficient cleaning. Removes most dirt, dust, and germs without chemicals.
Change pads in seconds with the attached hook and loop fasteners.
Professional-grade aluminum frame, durable & lightweight; extremely strong stainless steel handle. Detachable handle with reinforced plastic joints, easy to assemble, stable & safe.
Best Used With: Our Adjustable Hook and Loop Fastener & Handle
Please check our Terms of Sale page for additional information.
Stacking Discounts: The Higher your order subtotal (before tax and freight), the greater the Savings!** Orders totaling more than $250, $500 and $1,000 will save increasingly more on Each Item. Our Stacking Discounts give you the best option for your needs.
**Order subtotal must be a MINIMUM of $250, $500, or $1,000 AFTER discount is applied to each item.
Microfiber Pad
Model #
Description
Size
Color
Piece/
Pack
Price Per Piece


(Combined Order ≥)

Redeem for Free
Order
Qty
(Piece)
12
24
36
72

≥ $100

≥ $250

≥ $500

≥ $1,000

JLM04-P1-1
Mop Pad - Mic. Reusable
5" W x 18" L
Blue
12
$ 3.90
$ 3.00
$ 2.70
$ 2.50
1000
Microfiber Mop Accessories
Model #
Description
Size
Pcs/
Ctn
Price Per Piece


(Combined Order ≥)

Redeem
for
Free
Order
Qty
(Piece)
1
3
6
12

≥ $100

≥ $250

≥ $500

≥ $1,000

JLM04-P2-1
Mop Frame -
Aluminum w/ Hook & Loop Fastener
4" W x 16" H
12
$ 10.70
$ 8.10
$ 7.30
$ 6.70
250
JLM04-P3
Mop Handle -
Aluminum/ Adjustable
60" L
24
8.20
6.20
5.60
5.10
150