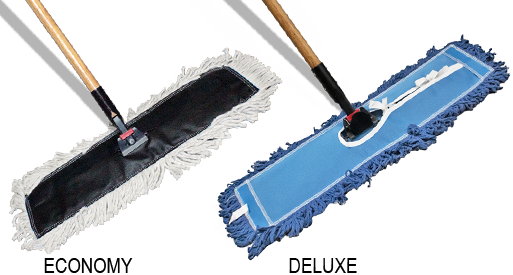 Description: Builds Static Charge to Attract Dust and Dirt Particles. Great mops for floor cleaning on Industrial, Commercial, & Residential Surfaces including hardwood floors; Heavy Duty Stitching Extends Mop Life, Improves Cleaning Performance and Launderability
Traditional Wooden handle with a steel metal frame allows for a sturdy and reliable handle that can withstand all types of cleaning and maneuvering without snapping.
Please check our Terms of Sale page for additional information.
Stacking Discounts: The Higher your order subtotal (before tax and freight), the greater the Savings!** Orders totaling more than $250, $500 and $1,000 will save increasingly more on Each Item. Our Stacking Discounts give you the best option for your needs.
**Order subtotal must be a MINIMUM of $250, $500, or $1,000 AFTER discount is applied to each item.

Economy

Model #
Description
Size
Color
Pcs/
Ctn
Price Per Piece


(Combined Order ≥)

Redeem for Free
Qty
(Piece)
1
3
6
12

≥ $100

≥ $250

≥ $500

≥ $1,000

JLM03-P1-3
Mop Head - Disposable
5" W x 24" L
White
12
$ 7.20
$ 5.60
$ 4.30
$ 3.90
150
JLM03-P1-4
Mop Head - Disposable
5" W x 36" L
White
12
8.30
6.40
5.00
4.50
150
JLM03-P2-1
Frame- Quick Change
5" W x 24" L
Black
24
5.00
3.90
3.00
2.70
150
JLM03-P2-2
Frame- Quick Change
5" W x 36" L
Black
24
7.30
5.70
4.40
4.00
150
JLM03-P3
Handle - Universal
60" L
N/A
12
12.70
9.60
8.70
7.90
300
Deluxe

Model #
Description
Size
Color
Pcs/
Ctn
Price Per Piece


(Combined Order ≥)

Redeem for
Free
Qty
(Piece)
1
3
6
12

≥ $100

≥ $250

≥ $500

≥ $1,000

JLM03-P1-1
Mop Head - Loop End
5" W x 24" L
Blue
12
$ 8.00
$ 6.10
$ 4.80
$ 4.30
150
JLM03-P1-2
Mop Head - Loop End
5" W x 36" L
Blue
12
10.60
8.10
6.30
5.70
300
JLM03-P2-1
Frame- Quick Change
5" W x 24" L
Black
24
5.00
3.90
3.00
2.70
150
JLM03-P2-2
Frame- Quick Change
5" W x 36" L
Black
24
7.30
5.70
4.40
4.00
150
JLM03-P3
Handle - Universal
60" L
N/A
12
12.70
9.60
8.70
7.90
300