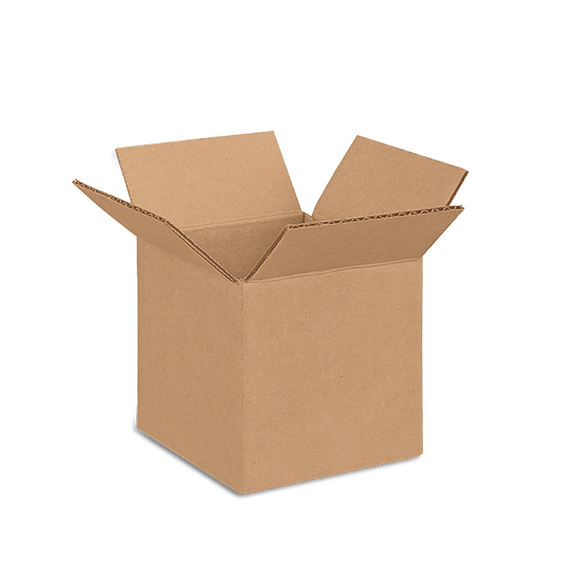 Corrugated Box 4-8"
Description: Corrugated Shipping Boxes great for shipping different size items. We have a great selection of sizes for all your shipping or storing needs. Sturdy and light-weight construction maintains industry standards.
Best used in: Great for packaging products for shipping or storage. Boxes are rated for items up to 65lbs. For best results use our industrial carton sealing tape.
Same Day Delivery within a 10-mile radius. Big Saving and Free Gifts for Orders Over $150.
* Please check our Terminology page for additional information.
Model #
Inside Dim.
Description
1 Bundle
1 Skid
2 Skids
Quantity
(Box)
L x W x H
Qty
Price Per Box
Qty
Price Per Box
Qty
Price Per Box
CB040-040040E3S
4 x 4 x 4"
32 ECT S/W RSC
25
$ .18
3,000
$ .16
6,000
$ .15
CB040-040160T3S
4 x 4 x 16"
200 LB S/W RSC
25
.54
1,000
.48
2,000
.43
CB040-040240T3S
4 x 4 x 24"
200 LB S/W RSC
25
.73
625
.65
1,250
.59
CB040-040280T3S
4 x 4 x 28"
200 LB S/W RSC
25
.82
500
.73
1,000
.64
CB040-040360T3S
4 x 4 x 36"
200 LB S/W RSC
25
.95
500
.83
1,000
.81
CB040-040480E3S
4 x 4 x 48"
32 ECT S/W RSC
10
1.21
600
1.05
1,200
.99
CB040-040600T3S
4 x 4 x 60"
200 LB S/W RSC
25
1.59
500
1.45
1,000
1.36
CB050-050050E3S
5 x 5 x 5"
32 ECT S/W RSC
25
.23
1,500
.22
3,000
.21
CB050-050500T3S
5 x 5 x 50"
200 LB S/W RSC
25
1.49
400
1.37
800
1.28
CB050-050760T3S5PF
5 x 5 x 76"- 5PF
200 LB S/W 5PF
25
2.03
500
1.78
1,000
1.70
CB060-040040E3S
6 x 4 x 4"
32 ECT S/W RSC
25
.19
2,500
.17
5,000
.16
CB060-060040E3S
6 x 6 x 4"
32 ECT S/W RSC
25
.25
1,500
.23
3,000
.22
CB060-060060E3S
6 x 6 x 6"
32 ECT S/W RSC
25
.26
1,500
.24
3,000
.23
CB060-060360E3S
6 x 6 x 36"
32 ECT S/W RSC
25
1.18
500
1.07
1,000
1.02
CB060-060480T3S
6 x 6 x 48"
200 LB S/W RSC
25
1.60
500
1.43
1,000
1.38
CB060-060600T3S
6 x 6 x 60"
200 LB S/W RSC
15
1.98
480
1.85
960
1.75
CB060-060720T3S
6 x 6 x 72"
200 LB S/W RSC
15
2.25
480
2.10
960
1.95
CB070-050050E3S
7 x 5 x 5"
32 ECT S/W RSC
25
.29
1,500
.26
3,000
.24
CB070-060060E3S
7 x 6 x 6"
32 ECT S/W RSC
25
.30
1,500
.27
3,000
.25
CB070-070030E3S
7 x 7 x 3"
32 ECT S/W RSC
25
.31
1,500
.28
3,000
.26
CB070-070050E3S
7 x 7 x 5"
32 ECT S/W RSC
25
.33
900
.31
1,800
.28
CB070-070070E3S
7 x 7 x 7"
32 ECT S/W RSC
25
.34
1,125
.32
2,250
.29
CB070-070790E4S
7 x 7 x 79"
44 ECT S/W RSC
15
3.33
300
3.08
600
2.99
CB080-040040E3S
8 x 4 x 4"
32 ECT S/W RSC
25
.21
1,875
.19
3,750
.17
CB080-060040E3S
8 x 6 x 4"
32 ECT S/W RSC
25
.24
1,500
.21
3,000
.19
CB080-060060E3S
8 x 6 x 6"
32 ECT S/W RSC
25
.32
1,500
.29
3,000
.27
CB080-080040E3S
8 x 8 x 4"
32 ECT S/W RSC
25
.37
1,125
.34
2,250
.31
CB080-080060E3S
8 x 8 x 6"
32 ECT S/W RSC
25
.39
1,125
.36
2,250
.33
CB080-080080E3S
8 x 8 x 8"
32 ECT S/W RSC
25
.41
1,125
.38
2,250
.36