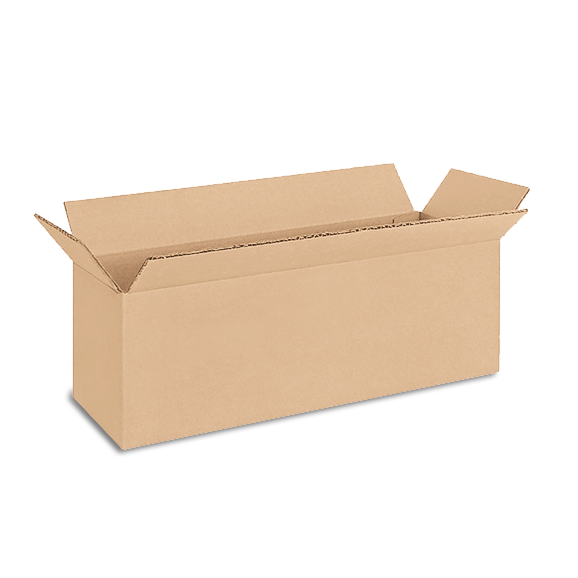 Corrugated Box 16-17"
Description: Safely store or ship out your products with this medium size box. 8NET shipping boxes are sturdy and light-weight. All construction methods maintain or exceed industry standards.
Best used in: Packaging products for shipping or storage. It can be used for commercial or personal use. Boxes are rated for items up to 65lbs. For best results use our industrial carton sealing tape.
Same Day Delivery within a 10-mile radius. Big Saving and Free Gifts for Orders Over $150.
* Please check our Terminology page for additional information.
Model #
Inside Dim.
Description
1 Bundle
1 Skid
2 Skid
Quantity
(Box)
L x W x H
Qty
Price Per Box
Qty
Price Per Box
Qty
Price Per Box
CB160-050050E3S
16 x 5 x 5"
32 ECT S/W RSC
25
$ .39
1,000
$ .35
2,000
$ .33
CB160-060040E3S
16 x 6 x 4"
32 ECT S/W RSC
25
.45
1,000
.42
2,000
.39
CB160-060060E3S
16 x 6 x 6"
32 ECT S/W RSC
25
.46
750
.43
1,500
.40
CB160-080060E3S
16 x 8 x 6"
32 ECT S/W RSC
25
.56
750
.51
1,500
.47
CB160-080080E3S
16 x 8 x 8"
32 ECT S/W RSC
25
.61
900
.57
1,800
.52
CB160-080080E3S-B
16 x 8 x 8"
32 ECT S/W RSC
25
.61
300
.57
600
.52
CB160-090030E3S
16 x 9 x 3"
32 ECT S/W RSC
25
.61
750
.55
1,500
.50
CB160-090090E3S
16 x 9 x 9"
32 ECT S/W RSC
25
.75
500
.68
1,000
.62
CB160-100040E3S
16 x 10 x 4"
32 ECT S/W RSC
25
.61
750
.55
1,500
.51
CB160-100060E3S
16 x 10 x 6"
32 ECT S/W RSC
25
.62
500
.57
1,000
.53
CB160-100080E3S
16 x 10 x 8"
32 ECT S/W RSC
25
.66
500
.61
1,000
.55
CB160-100100E3S
16 x 10 x 10"
32 ECT S/W RSC
25
.85
500
.75
1,000
.65
CB160-120040E3S
16 x 12 x 4"
32 ECT S/W RSC
25
.69
500
.59
1,000
.57
CB160-120060E3S
16 x 12 x 6"
32 ECT S/W RSC
25
.72
500
.65
1,000
.63
CB160-120080E3S
16 x 12 x 8"
32 ECT S/W RSC
25
.75
500
.66
1,000
.64
CB160-120090E3S
16 x 12 x 9"
32 ECT S/W RSC
25
.85
500
.75
1,000
.73
CB160-120100E3S
16 x 12 x 10"
32 ECT S/W RSC
25
.91
500
.83
1,000
.78
CB160-120120E3S
16 x 12 x 12"
32 ECT S/W RSC
25
.93
500
.82
1,000
.79
CB160-130070E3S
16 x 13 x 7"
32 ECT S/W RSC
25
.95
375
.85
750
.79
CB160-130090E3S
16 x 13 x 9"
32 ECT S/W RSC
25
.99
375
.93
750
.86
CB160-140040E3S
16 x 14 x 4"
32 ECT S/W RSC
25
.85
750
.78
1,500
.72
CB160-140060E3S
16 x 14 x 6"
32 ECT S/W RSC
25
.87
375
.84
750
.81
CB160-140080E3S
16 x 14 x 8"
32 ECT S/W RSC
25
.88
250
.85
500
.82
CB160-140100E3S
16 x 14 x 10"
32 ECT S/W RSC
25
.89
250
.86
500
.83
CB160-140100T3D
16 x 14 x 10"
200 LB D/W RSC
15
1.90
300
1.65
600
1.55
CB160-140100T3S
16 x 14 x 10"
200 LB S/W RSC
25
1.30
250
1.20
500
1.13
CB160-140120E3S
16 x 14 x 12"
32 ECT S/W RSC
25
1.25
250
1.15
500
1.02
CB160-140120T3S
16 x 14 x 12"
200 LB S/W RSC
25
1.37
250
1.25
500
1.17
CB160-140140E3S
16 x 14 x 14"
32 LB S/W RSC
25
1.35
250
1.23
500
1.15
CB160-160040E3S
16 x 16 x 4"
32 ECT S/W RSC
25
.98
250
.88
500
.84
CB160-160060E3S
16 x 16 x 6"
32 ECT S/W RSC
25
1.03
250
.97
500
.85
CB160-160080E3S
16 x 16 x 8"
32 ECT S/W RSC
25
1.05
250
.99
500
.93
CB160-160100E3S
16 x 16 x 10"
32 ECT S/W RSC
25
1.18
250
1.13
500
1.03
CB160-160100T3S
16 x 16 x 10"
200 LB S/W RSC
25
1.38
250
1.28
500
1.20
CB160-160120E3S
16 x 16 x 12"
32 ECT S/W RSC
25
1.35
250
1.25
500
1.19
CB160-160160E3S
16 x 16 x 16"
32 ECT S/W RSC
25
1.38
250
1.28
500
1.23
CB160-160160T3S
16 x 16 x 16"
200 LB S/W RSC
25
1.62
250
1.53
500
1.44
CB170-070130T3D
17 x 7 x 13
200 LB D/W RSC
15
1.65
300
1.55
600
1.45
CB170-090090E3S
17 x 9 x 9"
32 ECT S/W RSC
25
.73
500
.67
1,000
.63
CB170-120040E3S
17 x 12 x 4"
32 ECT S/W RSC
25
.75
500
.68
1,000
.64
CB170-120060E3S
17 x 12 x 6"
32 ECT S/W RSC
25
.88
375
.78
750
.73
CB170-120100E3S
17 x 12 x 10"
32 ECT S/W RSC
25
1.03
375
.92
750
.85
CB170-120120E3S
17 x 12 x 12"
32 ECT S/W RSC
25
1.10
250
.97
500
.93
CB170-130050E3S
17 x 13 x 5"
32 ECT S/W RSC
25
.85
300
.77
600
.73
CB170-130070E3S
17 x 13 x 7"
32 ECT S/W RSC
25
.90
500
.80
1,000
.76
CB170-130130T3S
17 x 13 x 13"
200 LB S/W RSC
25
1.30
250
1.20
500
1.15
CB170-140050E3S
17 x 14 x 5"
32 ECT S/W RSC
25
.95
375
.85
750
.78
CB170-140090E3S
17 x 14 x 9"
32 ECT S/W RSC
25
1.10
250
1.03
500
.98
CB170-140140T3S
17 x 14 x 14"
200 LB S/W RSC
25
1.50
250
1.38
500
1.33
CB170-170060E3S
17 x 17 x 6"
32 ECT S/W RSC
25
1.20
250
1.10
500
1.05
CB170-170100E3S
17 x 17 x 10"
32 ECT S/W RSC
25
1.39
250
1.28
500
1.20
CB170-170120E3S
17 x 17 x 12"
32 ECT S/W RSC
25
1.45
250
1.35
500
1.25
CB170-170140E3S
17 x 17 x 14"
32 ECT S/W RSC
25
1.60
250
1.45
500
1.38
CB170-170140T3S
17 x 17 x 14"
200 LB S/W RSC
25
1.80
250
1.65
500
1.55
CB170-170170E3S
17 x 17 x 17"
32 ECT S/W RSC
25
1.70
250
1.55
500
1.40
CB170-170170T3S
17 x 17 x 17"
200 LB S/W RSC
25
1.90
250
1.75
500
1.65
CB172-112060E3S
17 1/4 x 11 1/4 x 6"
32 ECT S/W RSC
25
.72
500
.66
1,000
.62
CB172-112080E3S
17 1/4 x 11 1/4 x 8"
32 ECT S/W RSC
25
.83
500
.78
1,000
.72
CB172-112080T3S
17 1/4 x 11 1/4 x 8"
200 LB S/W RSC
25
.88
500
.82
1,000
.77