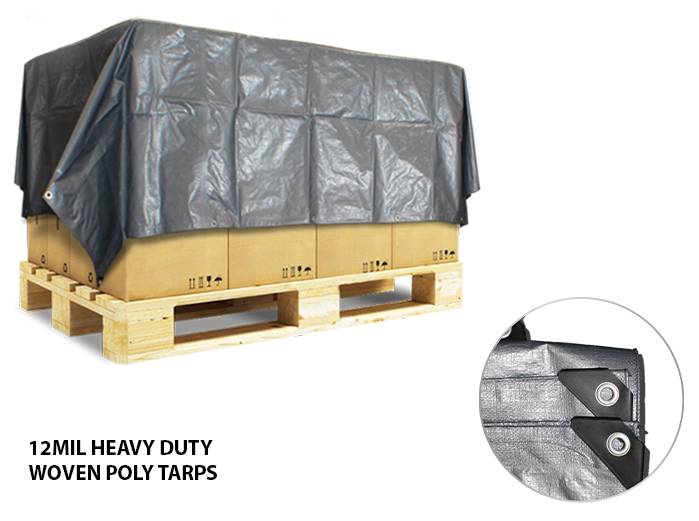 Lightweight polyethylene woven tarps. Waterproof, UV resistant, tear, and mildew resistant.

Rust-resistant grommets all the way around.

Double reinforced corners, both sides laminated.

Multipurpose uses in many applications, provide shade, cover the ground, etc.,
Free Same Day Delivery* available! Big Saving and Earn Rolling Reward Points for Orders Over $250.
+ Stacking Discounts:
The Higher your order subtotal (before tax and freight), the greater the Savings!** Orders totaling more than $250, $500 and $1,000 will save increasingly more on Each Item. Our Stacking Discounts give you the best option for your needs.
**Order subtotal must be a MINIMUM of $250, $500, or $1,000 AFTER discount is applied to each item.
12 MIL - Heavy Duty - Silver
Model #
Size
Pcs/Case
Price Each


(Combined Order ≥)

Qty
(Each)
W x L
1
2
3
1 Case

≥ $100

≥ $250

≥ $500

≥ $1,000

PT12-1012
10 x 12'
9
$ 14.90
$ 13.50
$ 12.70
$ 8.30
PT12-1016
10 x 16'
8
16.00
14.80
14.20
11.50
PT12-1020
10 x 20'
6
18.30
17.20
16.50
14.40
PT12-1216
12 x 16'
6
17.60
16.50
15.90
13.80
PT12-1220
12 x 20'
5
22.00
20.60
19.80
17.30
PT12-1224
12 x 24'
4
27.30
25.30
24.10
20.70
PT12-1230
12 x 30'
3
30.60
28.70
26.90
26.90
PT12-1420
14 x 20'
4
26.50
24.60
23.40
20.20
PT12-1620
16 x 20'
4
30.30
28.10
26.80
23.00
PT12-1630
16 x 30'
3
36.70
34.50
32.30
32.30
PT12-1824
18 x 24'
3
33.50
31.80
32.30
32.30