Polyester Strapping - Smooth Surface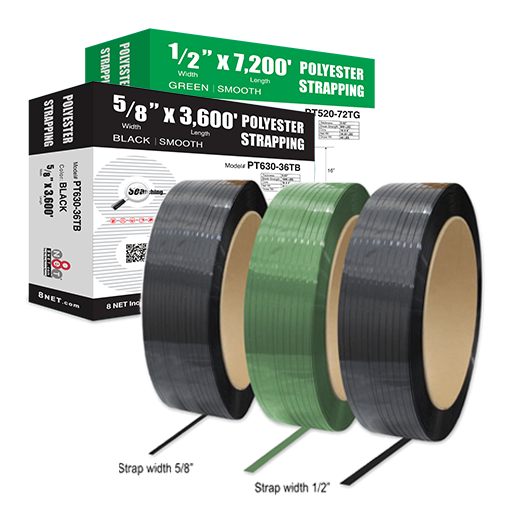 Description: Manufactured to the tightest industry standard, the polyester plastic shipping strap has up to 1080 lbs break strength, and it is gives similar durability to steel strapping but is safer to use. The strap is UV resistant and is perfect for outdoor use.  
Best used in: Used for strapping heavy loads such as chipboard, plywood, fiberboard, brick, stone blocks, small architectural forms, ceramic tiles, paving slabs, etc. For the best result, use our polyester banding tools and strapping cart for secure strapping of valuable products.
Same Day Delivery within a 10-mile radius. Big Saving and Earn Rolling Reward Points for Orders Over $250.
* Please check our Terms of Sale page for additional information.
Stacking Discounts: The Higher your order subtotal (before tax and freight), the greater the Savings!** Orders totaling more than $250, $500 and $1,000 will save increasingly more on Each Item. Our Stacking Discounts give you the best option for your needs.
**Order subtotal must be a MINIMUM of $250, $500, or $1,000 AFTER discount is applied to each item.
Medium Duty
Model #
Size
Break
Strength
Color
Coil/
Pallet
Price Per Coil


(Combined Order ≥)

Redeem for Free
Qty
(Coil)
1
3
6
12
W x L

≥ $100

≥ $250

≥ $500

≥ $1,000

PT520-72TB
1/2" x 7,200'
600 lbs
Black
48
$ 55
$ 49
$ 46
$ 43
2000
PT520-72TG
1/2" x 7,200'
600 lbs
Green
48
55
49
46
43
2000
Heavy Duty
Model #
Size
Break
Strength
Color
Coil/
Pallet
Price Per Coil


(Combined Order ≥)

Redeem for Free
Qty
(Coil)
1
3
6
12
W x L

≥ $100

≥ $250

≥ $500

≥ $1,000

PT525-58TB
1/2" x 5,800'
700 lbs
Black
48
$ 55
$ 49
$ 46
$ 43
2000
Extra Heavy Duty
Model #
Size
Core
Break
Strength
Color
Coil/
Pallet
Price Per Coil


(Combined Order ≥)

Redeem for Free
Qty
(Coil)
1
3
6
12
W x L

≥ $100

≥ $250

≥ $500

≥ $1,000

PT630-36TB
5/8" x 3,600'
16 x 6"
1080 lbs
Black
48
$ 55
$ 49
$ 46
$ 43
2000