Poly Strapping - Embossed Surface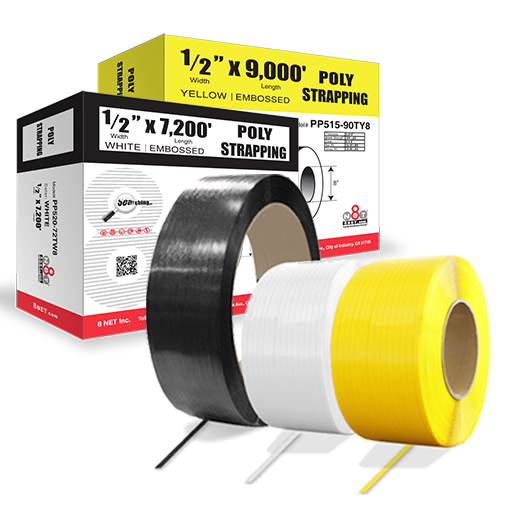 Description: Polypropylene strapping is our most economical strapping material available. They have a 450 lbs break strength, suited ideally for light, medium, or heavy-duty applications. Their embossed coat and smooth edge help create a durable seal.
Best used in: Lightweight poly strapping can be used to package an assortment of shapes and sizes. It is perfect for bundling newspapers, corrugated boxes, pipes, and any bulky but light item. For the best results, use with our package banding tools and strapping cart.
Same Day Delivery within a 10-mile radius. Big Saving and Earn Rolling Reward Points for Orders Over $250.
* Please check our Terms of Sale page for additional information.
Stacking Discounts: The Higher your order subtotal (before tax and freight), the greater the Savings!** Orders totaling more than $250, $500 and $1,000 will save increasingly more on Each Item. Our Stacking Discounts give you the best option for your needs.
**Order subtotal must be a MINIMUM of $250, $500, or $1,000 AFTER discount is applied to each item.
Light Duty
Model #
Size
Break
Strength
Color
Coil/
Pallet
Price Per Coil
Redeem for Free
Qty
(Coil)
W x L
1
3
6
12

≥ $100

≥ $250

≥ $500

≥ $1,000

PP515-90TB8
1/2" x 9,000'
300 lbs
Black
75
$ 44.00
$ 39.00
$ 36.00
$ 32.00
1500
PP515-90TW8
1/2" x 9,000'
300 lbs
White
75
44.00
39.00
36.00
32.00
1500
PP515-90TY8
1/2" x 9,000'
300 lbs
Yellow
75
44.00
39.00
36.00
32.00
1500
Industrial
Model #
Size
Break
Strength
Color
Coil/
Pallet
Price Per Coil


(Combined Order ≥)

Redeem for Free
Qty
(Coil)
1
3
6
12
W x L

≥ $100

≥ $250

≥ $500

≥ $1,000

PP517-90TB
1/2" x 9,000'
350 lbs
Black
56
$ 45
$ 41
$ 37
$ 34
1500
PP517-90TW
1/2" x 9,000'
350 lbs
White
56
45
41
37
34
1500
Medium Duty
Model #
Size
Break
Strength
Color
Coil/
Pallet
Price Per Coil


(Combined Order ≥)

Redeem for Free
Qty
(Coil)
1
3
6
12
W x L

≥ $100

≥ $250

≥ $500

≥ $1,000

PP520-72TB8
1/2" x 7,200'
450 lbs
Black
75
$ 46
$ 40
$ 37
$ 35
1500
PP520-72TW8
1/2" x 7,200'
450 lbs
White
75
46
40
37
35
1500
PP520-72TY8
1/2" x 7,200'
450 lbs
Yellow
75
46
40
37
35
1500