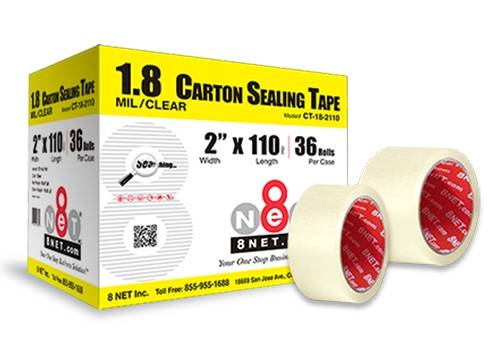 Description: Industrial sealing tape is a strong solvent acrylic adhesive that sticks to any surface. Strong, reliable and stands up to all weather conditions.
Best used in: Perfect for sealing up shipping boxes, corrugated boxes, moving boxes. Meets UPS/US postal regulations.  Available in clear, brown and tan. For best results use our carton sealing tape dispensers.
Same Day Delivery within a 10-mile radius. Big Saving and Earn Rolling Reward Points for Orders Over $250.
* Please check our Terms of Sale page for additional information.
Stacking Discounts: The Higher your order subtotal (before tax and freight), the greater the Savings!** Orders totaling more than $250, $500 and $1,000 will save increasingly more on Each Item. Our Stacking Discounts give you the best option for your needs.
**Order subtotal must be a MINIMUM of $250, $500, or $1,000 AFTER discount is applied to each item.
1.8 MIL - Economy
Model #
Size
Color
Roll/
Case
Case/
Pallet
Price Per Case


(Combined Order ≥)

Redeem for Free
Order
Qty
(Case)

≥ $100

≥ $250

≥ $500

≥ $1,000

1
10
20
40
CT-18-2110
2" x 110 yds
Clear
36
105
$ 34.56
$ 29.52
$ 28.08
$ 25.92
500
CT-18-2110-B
2" x 110 yds
Brown
36
105
34.56
29.52
28.08
25.92
500
CT-18-2110-T
2" x 110 yds
Tan
36
105
34.56
29.52
28.08
25.92
500
CT-18-3110
3" x 110 yds
Clear
24
105
34.56
29.52
28.08
25.92
700
CT-18-3110-B
3" x 110 yds
Brown
24
105
34.56
29.52
28.08
25.92
700
2.0 MIL - Industrial
Model #
Size
Color
Roll/
Case
Case/
Pallet
Price Per Case


(Combined Order ≥)

Redeem for Free
Order
Qty
(Case)

≥ $100

≥ $250

≥ $500

≥ $1,000

1
10
20
40
CT-20-2110
2" x 110 yds
Clear
36
105
$ 40.68
$ 36.36
$ 33.12
$ 28.80
700
CT-20-2110-B
2" x 110 yds
Brown
36
105
40.68
36.36
33.12
28.80
700
CT-20-3110
3" x 110 yds
Clear
24
105
40.68
36.36
33.12
28.80
800
CT-20-3110-B
3" x 110 yds
Brown
24
105
40.56
36.36
33.12
28.80
800
CT-20-3110-T
3" x 110 yds
Tan
24
105
40.68
36.36
33.12
28.80
800
2.6 MIL - Heavy Duty
Model #
Size
Color
Roll/
Case
Case/
Pallet
Price Per Case


(Combined Order ≥)

Redeem for Free
Order
Qty
(Case)

≥ $100

≥ $250

≥ $500

≥ $1,000

1
10
20
40
CT-26-2110
2" x 110 yds
Clear
36
84
$ 63.36
$ 55.08
$ 50.76
$ 41.40
900
CT-26-3110
3" x 110 yds
Clear
24
84
63.60
54.96
50.88
41.52
1000