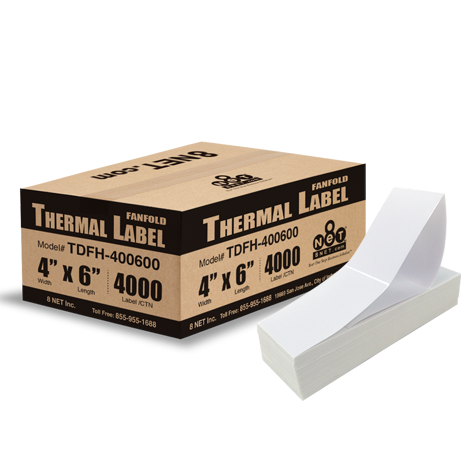 Fanfold (No Ribbons Required)
Fanfold (No Ribbons Required)
Description: Fan folded labels are the most economical choice for large volume printing. Spend less time swapping media. Excellent for storage.
Direct Thermal Labels have a heat-reactive coating. The print color is limited to black print. NO RIBBON REQUIRED
Best used in: Thermal label machines specifically sold by 8NET. 
Same Day Delivery within a 10-mile radius. Big Saving and Earn Rolling Reward Points for Orders Over $250.
* Please check our Terms of Sale page for additional information.
Fanfold (No Ribbons Required)
Model #
Label Size
Labels
/Case
Color
Price Per Case
Qty
(Case)
W x H
1 Case
5 Cases
10 Cases
20 Cases
≥ $100
≥ $250
≥ $500
≥ $1000
TDFH-400300
4 x 3"
8,000
White
$ 68.80
$ 62.50
$ 56.90
$ 52.10
TDFH-400400
4 x 4"
6,000
White
85.00
68.00
63.80
56.80
TDFH-400600
4 x 6"
4,000
White
65.80
61.50
53.50
50.90
TDFH-400600-2/4
4 x 6" W/2'' Slit
5,000
White
175.00
142.00
138.00
129.00